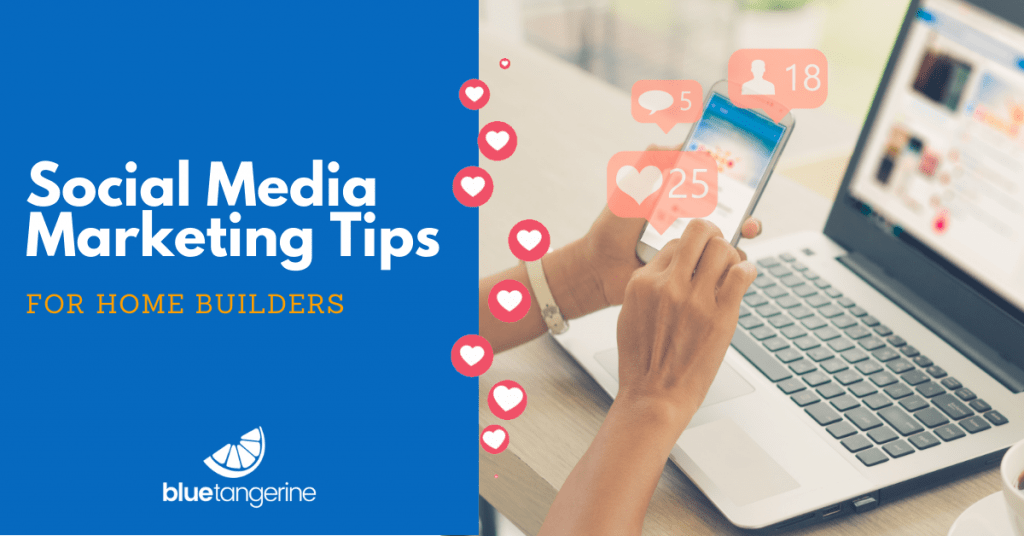 From well-established to newly-founded companies, it seems most home builders turn to social media to grow their brand and ultimately increase leads and sales. But, compared to business-to-consumer businesses, selling homes online is not as simple as "Add to Cart."
As with any major purchase, the sales cycle tends to be much longer than standard eCommerce. This behavior is reflected in how potential homebuyers navigate their research process within social media. Trends show that a prospective lead will follow a home builder brand on social media for months, even years, before closing the deal. Thus, creating a need to implement a cohesive social media marketing strategy to grow your brand and connect with your target audience while they virtually window shop your homes.
Check out the top organic social media marketing tips for home builders from the Blue Tangerine team:
1. Lifestyle/ Community-Centered Images
When you get to the heart of it, the target audience for all home builders is real people and families seeking to build their ideal life. So why not remind consumers that your community, and their future neighbors, are also real people? To do so, humanize your brand on social media by sharing images that show the lifestyle of your community, ranging from nearby events to beloved pets. Then, to maintain a balance, aim for your social media page to display 20% sales-focused messaging and 80% lifestyle images.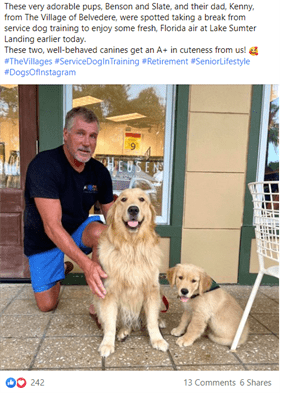 2. Behind-the-Scenes
Continue humanizing the brand by sharing team updates or progress photos from the latest projects and communities or reshare local news. Remind buyers your company also cares about the areas you build in.
3. This or That
One of the most challenging aspects of running an effective organic social media strategy is creating new, fresh content that audiences voluntarily interact with, such as liking, sharing, and commenting. Specifically for home builders, a great way to show off different types of homes in an interactive way is "This or That" posts. This post is an image or a story comparing different styles, trends, color palettes, and more. Include the popular hashtag #ThisOrThatThursday to increase the post's potential reach.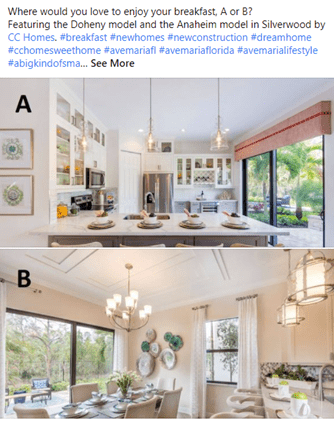 4. Build a Community on Facebook
Sure, a large following can look impressive, but if Followers are bought, are they valuable? (The answer is NO). Instead, focus on building a following backed with raving fans ready to recommend your business to their friends and family – that goes a lot further than an inauthentic audience.
Beyond a company's general Facebook Page, community groups are also an excellent way to share more internal updates, event information, and more. Whether it be a group for all homeowners or a specific community, a group is an excellent way to foster a sense of camaraderie amongst residents. Forbes says it best, think of a Business Page as your storefront with window shopping inviting people to come inside and a Facebook Group like coming into your store (or digital living room) where members can cozy up and have a conversation.
5. Invite Engaged Facebook Users to Like the Page
You may be sitting on a gold mine of potential followers. Check the likes on your posts, and you may find users who have engaged with your content but do not follow the page. Reviewing the engagement on your posts is the perfect opportunity to Invite users to Like the Page and grow your following.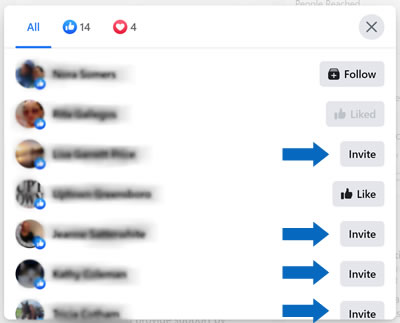 6. Post all updates with photos
While, of course, there is no other option as it pertains to posting without an image to Instagram or Pinterest, it is just as essential to include a photo on all posts across Facebook, Twitter, LinkedIn, and beyond. Posts with images improve engagement while also communicating more with the intended audience through storytelling and expression. Additionally, according to Marketer Jeff Bullas, content with relevant images gets 94% more views than content without relevant images.
7. Creating a post to encourage user engagement
It seems every day is a "National Day of" something, so naturally, those make for perfect engagement posts. For example, for #NationalDogDay, post some employee puppies and encourage followers to share their own in the comments.
For more of an everyday post (not necessarily a holiday), encourage users to tag your company for a chance to be featured. Example: "Share a pic of you and your dog walking the trails and Tag @YourCompany to be featured!" Or "Share your favorite view from the golf course, or lake or somewhere near 'x' community and Tag @YourCompany for a chance to be featured!"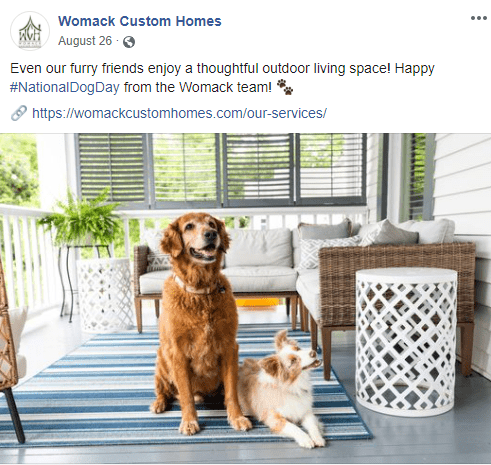 8. Reshare Tagged Photos
Homeowners tag you for a reason! Do not let that content go to waste – go ahead and promote your raving fans! Reach out and ask for permission to reshare, then tag them if possible. Either reshare with an app on Instagram or ask for them to email the original photo file to cross-post across all platforms.
9. Paid Social Media Strategy
Growing a following through organic posts alone can feel like a daunting task. However, pairing the tactics above with a paid strategy can present your brand to a wider, highly targeted audience. There are many strategies to expand your brand on paid social, from "Boosting" an existing post to creating a paid campaign. If you decide to run a paid campaign in Facebook Ad Manager, make sure to include the Special Category of "Housing" to prevent your ad from disapproval.
Want More Tips?
These are just a few tips on growing your brand on social media. Social media marketing for home builders can be slow at first; it takes time and expertise to learn your audience and get it right. Consider working with the Blue Tangerine team to effectively use social media to expand brand awareness through new audiences, drive traffic to your website and grow your sales. Learn more about our social media marketing services or schedule a call now.