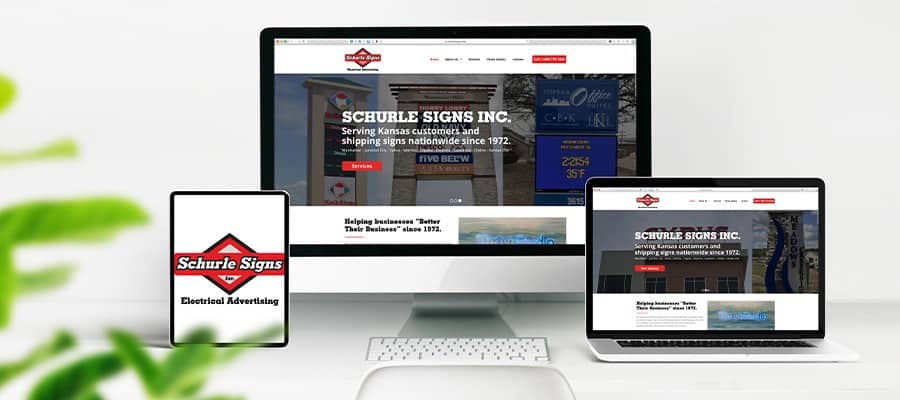 Schurle Signs has served the Midwest with high-caliber signage for nearly 50 years. As their website began to age and the site's functionality and imagery began to conflict with the family-owned brand's remarkable reputation, they turned to Blue Tangerine for help.
Not only does the new Schurle Signs' website elevate the company's appearance (which happens to be important in the signage industry), but the site also improves the team's efficiency. Ryan Schurle, the CEO, explained, "We couldn't be happier. It's now easy to keep our photo galleries and content up-to-date. Before it was incredibly time-consuming, it's super easy now, and the site looks great."
The new Schurle Signs website further improves company efficiency with an online payment system for their customers. By listening to pain points, the Blue Tangerine team streamlined Schurle Signs' client graphic-exchange process by adding a simple file-share program integrated on their website. Ryan also mentioned they've seen a large uptick in leads within the first week of launching the new website.
We were proud to partner with Schurle Signs to improve their efficiency and help their business grow. Check the site out for yourself >>>
If you need help with electrical signage, check out Schurle Signs. If you need more information on how to improve your website, contact Blue Tangerine!