Our Summit is Back and In-Person!
We are excited to be hosting our fourth Home Builder Digital Marketing Summit back in person September 21-22 in Phoenix, AZ at the Found:RE hotel.  We have an exciting line-up of leading industry experts and peers who will guide you through two days of presentations, round table breakout groups, builder panel discussions, and networking designed to help you make the most of your websites and digital marketing to sell homes online and increase sales.
Learn & Discuss Ideas
Join us in September and find out how you can use digital marketing to evolve the home buyer journey.  Our lineup of experts will lead you through discussions about buying and selling homes online, SEO, lead generation, digital marketing tactics, and more.
Network with Other Builders
Valuable learning takes place not only when we listen, but when we actively engage with each other.  Alongside presentations are round-table discussions, builder panels, and an evening networking event.  These opportunities to interact with each other help us see how the information we learned can be put to practical use.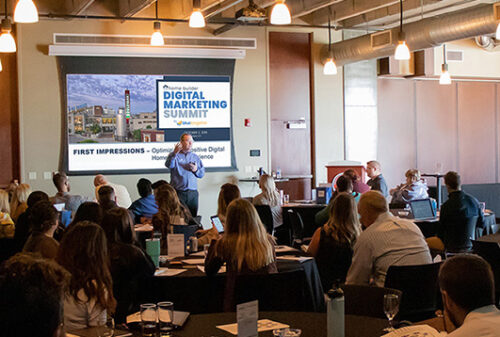 Here's what past attendees have to say about the summit:
"I love that you had actual builders speaking! We hear from the same people over and over…. It's wonderful to have some new voices in our industry!"
"The Summit was thought-provoking and insightful; I took away valuable information that I could use with my team."
"Relevant topics and a plethora of actionable processes that can be implemented to start garnering results are a win in my book!"
The valuable expertise packed into these two days will help you navigate the online buying experience, whether you need to fine-tune your existing strategy or decide what first steps you should take to get your homes online.  We can't wait to see you there!