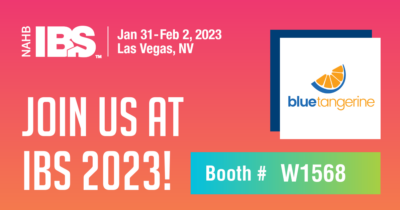 Another IBS has come and gone … this year was definitely exciting!  Head over to our blog and read all about it in our Builders' Show 2023 Recap!
Join us at IBS 2023 in February! We'll be in the exhibit hall at booth #W1568 and participating in two exciting sessions. We'd love to see you! If you plan to be at IBS, be sure to visit our booth and attend our sessions. Plus, enjoy a FREE Exhibit Hall pass on us!
The Builders' Show can be hectic, so make the most of your time by booking an appointment to meet with our team in person. If you're facing challenges with your website or want to improve your digital marketing, we'll be there to help you create a plan.
Tuesday, January 31 | 2:00 – 3:00 PM
LVCC – W316
Online sales have evolved past simply gathering information from a builder's website prior to a community visit. Customers now want to use digital tools before, during and after they make their buying decisions—and the inability to meet those expectations often results in a lost sale. This makes it crucial that home builders have a comprehensive strategy to serve them, regardless of how, when or where they engage. This advanced session will reveal a process for creating a seamless transition between your online and onsite sales teams that eliminates the need for a handoff. Learn strategies to blend website technology and online and onsite sales to exceed your customers' expectations and increase profitability and market share.
Wednesday, February 1 | 1:00 – 2:00 PM
LVCC – W317
Organic search remains one of the top traffic drivers and a key source of highly engaged users to your website. With Google constantly evolving organic search results and the BIG shift to Google Analytics 4 in 2023, this session will explore proven tactics for identifying issues, tracking trends, and improving your SEO. This is not a technical session on SEO, but instead will provide tangible strategies you can put in place now that can result in better insights and, ultimately, more customers.
Thursday, February 2 | 11:30 AM – 12:30 PM
LVCC – W232
Explore four of the hottest trends and most effective tools in social media today—social media optimization, paid social ads, influencer marketing and social analytics. Speakers will take the stage for 12-minutes a piece to highlight must-know features and demonstrate ways to take advantage of each in 2023. First, discover why social media optimization (SMO) is the new SEO and how subtle tweaks, from changing your bio to adding the right keywords, can be vital for your success. Ready to stop wasting money on ineffective ad campaigns and finally make your social platforms lead-generating machines? Our second presentation is for you. Next, get the inside scoop on how to build trust and drive customer acquisition through influencer marketing, a highly effective but under-utilized tool for builders. Finally, we'll tie it all together by diving into the world of analytics to learn about the tools you can use to measure the success of your various social efforts across platforms.