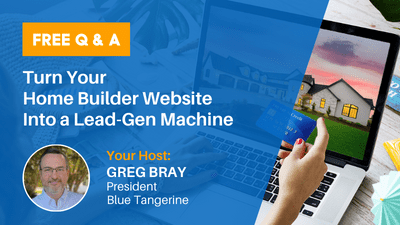 Missed the event?  Don't worry, Greg will do a live Q & A each quarter.  Keep your eyes out for more information.
Until then, be sure to check out our Exclusive Builder Research Study for yourself and learn more about how consumers buy from home builders online.
Join Greg for the first of our quarterly LIVE Q & A sessions where you will hear more about the results of our proprietary research and how you can use that information to generate more leads from your website.  You can ask Greg your questions in this FREE, open mic event.
What You'll Learn:
How to identify home buyer preferences and leverage those insights to generate leads and convert customers using your home builder website.
Understand what worries your core audience, while also providing you with the information you need to create a home builder website that positions you as the ideal solution for their concerns.
How buyer attitudes fuel their behaviors, allowing you to present more valuable opportunities to them through your home builder website.