Create a Custom Strategic Plan
Designed to reach your goals
Digital Marketing is complex. Harnessing its full potential doesn't happen by accident.  How do you find the right balance and get the most out of your marketing budget?

Creating and maintaining a digital marketing strategy helps you effectively utilize the right tools and streamline efforts to reach your audience.  Leveraging the latest Paid Search, SEO, Geofencing, Social Media, and Email tactics will drive website traffic and qualified leads that convert into sales. Our team of experienced cross-industry specialists collaborates to bring the pieces of your digital marketing efforts together. By shaping and executing a strategic plan based on research, metrics, and industry trends, we will help you achieve your goals and grow your business. 
Let us start mapping out your digital strategy today!
How We Help You Create a Digital Marketing Strategy
Uncover Opportunities
We use our experience, and information on industry trends, to identify opportunities for you to reach your customers.
Gather Insights
We study online, and offline, data to gather insights into your customers' interactions with your business.
Create a Strategic Plan
We create a digital marketing strategy with a prioritized tactical execution plan to help you achieve your business goals.
Execute and Measure Plan
Our team of experts will help you with the implementation of recommended strategies, tracking performance, and optimizing as needed to hit your targets.
Proven Results
Multi-Channel Strategy Turns Around Sales
A direct mail based ecommerce retailer came to us to not only turn around, but grow their declining sales.
Our team created a multi-channel strategy including SEO, Paid Search, Email Marketing and Social Advertising to reach new and existing customers to grow sales.  The results in just three months were amazing, with a website traffic increase of 126% and a revenue growth of 65%.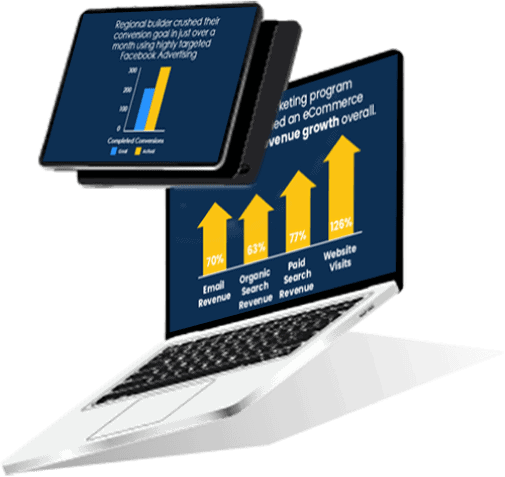 Learn More About Digital Marketing Strategies
Learn more about the importance of digital marketing strategy and how we can optimize a plan specifically for your business by listening to Vithya Kuckreja, a Blue Tangerine Search Engine Marketing professional, in Episode #83 of The Home Builder Digital Marketing Podcast and Episode #17 of Digital Velocity. Vithya goes into more detail when she talks about digital marketing strategies as "…a plan that you put together for your business to achieve the goals for your business across carefully selected channels."
Explore Other Digital Marketing Services