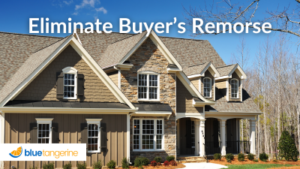 Prevent Buyer's Remorse Before Closing
How common is home buyer's remorse? Does this impact your business? It may be holding you back more than you know.
Emotions can run high with buyer's remorse. The anxiety, overwhelming frustration, guilt and regret can stop buyers from giving you a positive review or a critical testimonial. If buyer's remorse sets in, you can forget about buyers recommending you to friends and family. Word of mouth is highly influential, and you can't afford to ignore it. When so much rests on your reputation, it's essential home builders know how to prevent buyer's remorse.
A Zillow survey found that 75 percent of home buyers have at least one regret about the home they bought. Most commonly, they regret purchasing a home requiring more maintenance or repairs than anticipated. And 40 percent wish they'd spent more time searching for a home. The process can be so overwhelming for some buyers that they experience "buyer burnout," causing them to take multiple breaks in their search.
In this blog, we'll dive deeper into our recent attitudinal research study. We'll discuss what the home buying process is like for buyers, what drives buyer's remorse, and what home builders can do about it.
By understanding how different home buyers engage with the home buying process, you can help prevent buyer's remorse. The key is being proactive.
While stats like those from Zillow can be helpful in contextualizing buyer's remorse, you need to understand what buyers think and feel to prevent it. That can be complicated; our research suggests not all buyers end up with buyer's remorse for the same reasons.
We can look at three things to better understand buyer's remorse: duration of the home buying process, worries/anxieties involved, and how buyers engage with online home buying.
Duration of the Home Buying Process
Of those who have yet to purchase a home, most have spent up to 12 months researching. About one in three have spent one to three years researching.
People who purchased a home between 2020-2022 spent similar amounts of time researching a home or home builder before they made their final selection.
In the research phase, home buyers need information about location, affordability, and durability, which reflect home builder reputation. Many home buyers care about the same things, but if you target them the same way, you're bound to miss.
Through our research, we found four unique segments of home buyers: Builder Preferrers, Researchers, Worriers and Online Preferrers. Builder Preferrers are the most likely to say the home builder is important during the process. To engage them, you need to share expert advice, lead with reputation, and foster a collaborative relationship.
While all respondents care to some extent about where they live, Researchers typically spend a lot of time looking into neighborhoods and communities.
42 percent of prospective buyers intend to spend between $250K and $500K on their next home, but most Researchers and Worriers expect to pay under $250K. If you lead with options out of their price range, it's going to be hard for them to feel confident in the home buying process.
You need to know your home buyer to best guide them along the journey to home ownership. Because it's a lengthy process, there are plenty of opportunities to provide education and support that can reduce the chances of buyer's remorse. Here's how you can guide home buyers during the research phase:
Answer questions about location, home affordability, your reputation and process (location questions can be answered with maps on your website's home page).
Share video content about the area, such as shopping, dining and community events. Post this content on social media and through your blog.
Place information about the school system on your community or inventory home pages.
Address affordability questions by providing clear pricing options on your website — tie that near a mortgage calculator.
Update your Google Business profile with content about location, affordability, your reputation, and links to your website.
Worries and Anxieties About Buyer's Remorse
Buyers all have different backgrounds, cultures, values, and priorities. You need to understand what they're hoping to get from the home buying experience to predict what will cause buyer's remorse. 
Builder Preferrers want a home in a desirable neighborhood that looks like it's been designed by a professional. They also want to make interior design decisions. If they feel left out or the home isn't matching their vision, buyer's remorse can set in.  
To prevent anxiety, showcase examples of the design process, including imagery and video of a finished home. Ensure they have a direct line to your sales team or design consultant for questions and collaboration. 
Researchers are looking for a quiet retreat. Home is a sanctuary to them, so it is paramount to give them options in safe neighborhoods and communities that can help them relieve stress. 
To prevent anxiety, provide video of their desired neighborhood in action, highlight testimonials about completed neighborhoods and share crime statistics from the area. Demonstrate you are building the retreat they are looking for.
Worriers are unsure of what they want but believe they'll know it when they see it. Working with this segment is about alleviating worries, getting them in touch with what they like, and helping them develop confidence in their decision. 
Because Worriers assume that everything is a potential problem, help by providing a clear line of communication to a sales consultant who can address challenges at each stage of the buyer's journey. Post educational content on your website demonstrating common issues and how they're resolved. 
Online Preferrers want the process to be as easy as possible. Any extra steps will cause them dissatisfaction that they'll remember long after moving in. 
To alleviate their concerns, streamline the process using online tools — like interactive floor plans, virtual walkthroughs, how to apply for a mortgage, and choosing a lender. For the parts of the process that require interaction with a sales professional, give them a clear way to reach them.
How Buyers Engage With Online Home Buying
While we believe aspects of the home buying process need to stay in person for the best experience, there's no denying that online options are here to stay. We cannot stress enough importance on having a website that offers a seamless, engaging online experience. However, there are differences in how home buyers think about the experience, and knowing about them will help you prevent buyer's remorse. 
If you come across Online Preferrers, you'll want to be especially conscious of what online options you have because they want the process to be as easy as possible.  
Researchers are more likely to prefer talking to a human being. You can have a human element online, and this group needs it to work through their home buying process. 
While most home buyers want some aspects of the home buying process to take place online, (50 percent want to apply for a mortgage online), they still have reservations. Of those who say they're concerned about making purchases online, about half worry about making mistakes during the process that will cost them money, privacy or satisfaction. 
It's key to know that mistakes are going to happen when purchasing a home. For example, the buyer saw an option in the model home or virtual walkthrough and they expected it to be included in the build. Address these challenges by providing detailed information. In the example above, a simple sign in the model home or a "note" on the simulation explaining that the feature was an option and not part of the base model could have eliminated that confusion.

Builders can reduce friction points by providing more tools online. For example, providing pre-packaged options can give prospective home buyers control over some purchase details. Use the website as a portal for new home buyers to reach you easily.
Creating content for each step in the buyer journey that addresses common issues and how they are solved will help the builder establish consistent processes that can be used to educate the sales, realtor and construction teams (and the buyer!). This will make all parties more confident on resolving issues and reduce buyer's remorse.
Stop Buyer's Remorse Before It Starts
Buyer's remorse doesn't benefit anyone. Home buyers can find it hard to enjoy their new home and are less likely to recommend their home builder to somebody they know. Home builders can struggle to gather the social proof they need to attract new clients and build their reputations. 
Fortunately, there's a lot you can do to prevent buyer's remorse. It all depends on how well you know your buyers. Be proactive with your content and processes to ensure that your buyers and sales, realtor and construction teams are all moving in the same direction. When you invest time in creating educational content and use it to establish policies and procedures, then you will be successful at minimizing the root causes of buyer's remorse.