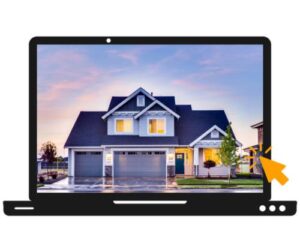 Privacy is Paramount in Online Home Buying
The last few years have been a wild ride for home buyers. After COVID-19, the market ground to a halt. Since then, we've seen waves of people buying houses in new areas because of the rise in remote work. We've also seen inflation cause housing prices to soar, further complicating the home buying experience. One of the most significant developments was transitioning from a primarily paper-based home buying to an online home buying experience.
According to a Statista report, 99 percent of home buyers aged 23-56 used the Internet to find homes in 2021, one of the years covered in our recent attitudinal research study.
We've seen home builders show resistance to the online home buying process, but it creates a platform that helps build trust. If you want to close the deal, you have to be online.
By understanding home buyer attitudes about the online experience, you can better serve them and increase their likelihood of buying a home from you. In today's blog, we will explore their primary concern about online home buying: privacy.
Concerns About Buying a Home Online
Our research found four unique home buyer segments: Builder Preferrers, Researchers, Worriers and Online Preferrers. Three in four home buyers say they'd buy their next home in person if given a choice, but 40 percent want an online aspect of the home buying process. Out of all the buyer segments, Online Preferrers would be okay with a complete online home buying experience. Check out these statistics: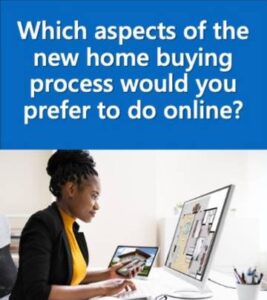 50% would apply for a mortgage online
45% would like to see a 3D tour of their home
42% would like to see the schedule and progress of their home being built
41% would choose a model for their home
39% would choose a warranty
One of the most eye-opening statistics was how many buyers are open to applying for mortgages online. In the past, this particular aspect of the home buying process required relationship building between the builder and lender or real estate agent. Now, it's more transactional as there's a push for builders to integrate preferred lenders and mortgage applications on their websites.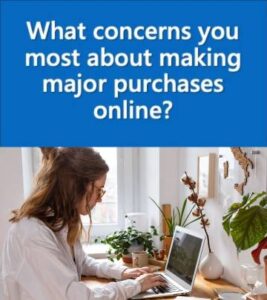 48% are concerned about providing banking or credit card information online
45% are concerned about providing personal information online
38% are concerned about a potential hack of the company's data
35% are concerned about being tracked while doing other things online
Online Preferrers show higher levels of trust and fewer privacy concerns than other segments. If you have these buyers in your mix, the threshold for building trust is lower, but that's not the case for other buyers.
Researchers are particularly concerned with privacy. One Researcher shared with us, "I worry about placing my sensitive details in the hands of an unfamiliar online provider and endangering my assets."
Privacy concerns are on home buyers' minds, and if you do not address them, it can impact trust. A good way to build trust is to show them how their personal and financial details are safe with you.
Protecting Buyers' Privacy
How do you feel about your data privacy when you're online? Would you still trust a business if it had a data breach? A KPMG study found that 86 percent of consumers are worried about their data privacy. More than two in three are concerned about the level of data businesses collect.
Real estate is no exception, and the stakes may be higher because the purchase price is much higher. Showing home buyers that you care about the vision for their home and privacy during the process can build trust big time. To ensure their privacy online, home builders should:
Communicate their privacy policies and practices to potential home buyers. This can include displaying a privacy policy on your website and being transparent about what data you collect and how it's used. For example, you can inform prospective home buyers you are using Google Analytics to understand how website visitors are using the site so you can improve the online experience.
Provide references and testimonials from previous home buyers satisfied with privacy practices to build trust and credibility with potential buyers.
Offer privacy-focused tools that allow home buyers to manage the data collected about them. For example, you can collect lead information such as a buyer's name, address, phone number and email address but allow them to choose whether they receive only email communications about the home buying process versus additional emails selling them more services after the sale.
Reassure home buyers that the website is secure with SSL encryption and hosted on a secure server located in a safe data storage facility. Post it on a privacy page online so it's easy to find.