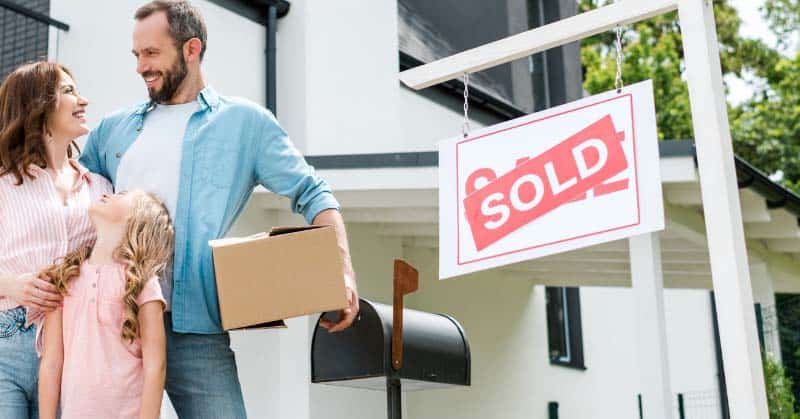 How Home Buyer Attitudes Are Reflected in Real Estate Market Trends
Many forces are influencing the home buying process, from COVID-19 and community development to interior design and interest rate hikes. The one thing they all have in common is that they are out of everyone's control.
To better understand how home builders can connect with buyers in a meaningful way to guide them along the journey to homeownership, we recently conducted a proprietary attitudinal research study to better understand the attitudes and behavior of today's buyers.
We wanted to find answers to questions like, What fears do home buyers have? How much of the home buying process are they willing to do online? And what role are home buyers looking for home builders to play?
We surveyed 500 people who had either purchased a home sometime after 2020 or intended to purchase one before 2025. The real estate market trends we discovered through our research revealed four distinct attitudinal segments of home buyers that are unique in their preferences, worries and habits. By understanding these segments, home builders can identify them in their customer base to better serve them.
Ask yourself, as you read through the descriptions of each segmentation, which types of customers you've come across.
Different Segments of Home Buyers, Different Attitudes
Each of the following segments represents about one-quarter of home buyers, so it's important you understand each of them as you'll likely encounter all of them. One thing they all have in common is they each expect a home builder to provide unbiased advice. Additionally, they seem to trust home builders more than real estate agents. So if and when they work with a home builder, they rely on them as a reliable source of information and support.
Segment 1: Builder Preferrers
Builder Preferrers want to work with a home builder during the home buying process. They have a home builder in mind, research them, and trust them to provide sound advice. This segment wants the best, and that means a new home that looks like it's been designed by a professional. But they're not hands-off; they look forward to being involved in the interior design selection for their new home. They're always looking for new information and advice about choosing a home and say they'd love advice from professionals about these topics.
The takeaway: They aspire to have the best home possible.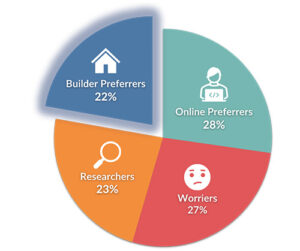 Segment 2: Researchers
Researchers want an easy home buying process and strive to be in the driver's seat. They're information seekers, and as a result, they feel well-informed due to their research efforts. They're methodical and meticulous, saying they'll take their time choosing and planning their new home. They invest time in researching a home's features and neighborhoods before feeling comfortable making any final decisions. These respondents say they've identified specific communities or neighborhoods that fit their needs.
The takeaway: They aspire to have a quiet retreat.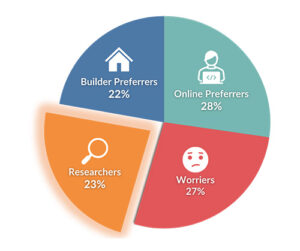 Segment 3: Worriers
Worriers have many concerns about the home buying process (often saying it's a nightmare) and making major purchases online. Worriers feel overwhelmed by the sheer quantity of decisions they have to make to buy a home and don't have somebody they can trust during the process to lighten the load. They're also not sure what information they need to make a good decision about buying a home. Their perspective is that they'll know what they want when they see it.
The takeaway: They aspire to feel confident in their decision.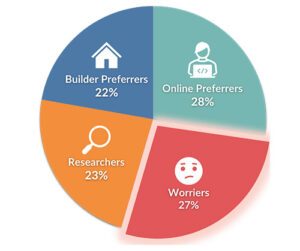 Segment 4: Online Preferrers
Online Preferrers are comfortable with online purchases and prefer buying a home this way. In fact, they'd prefer to do the home buying process entirely online if possible. They would buy a home without seeing it in person as long as they could first see it in detail online.
The takeaway: They aspire to simplify the process.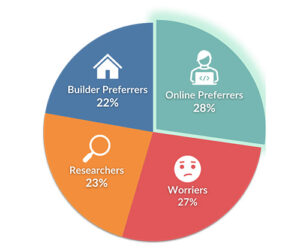 Segment Demographic Takeaways
Before this research study, we assumed we'd see demographic differences between the segments, but that wasn't the case. Each segment spans all ages, genders, races and annual household incomes.
For example, we expected the Online Preferrers to be significantly younger than the rest of the segments because we expect the younger cohort to be more comfortable with making larger purchases online because they are more comfortable with digital technologies. Upon reviewing the statistics about digital behavior, you see wide adoption of smartphone technology across age, income, gender, ethnicity and education levels.
According to a demographic study by the Pew Research Center, 85% of adults (male and female) have adopted smartphone technology. This includes 83% of those between the ages of 50-64 and 95% between the ages of 30-49. Therefore, since smartphone technology has been adopted by such a wide population, it's safe to assume that the participants in our research study would have the same comfort level. In that case, demographics don't play a significant role in defining which segment a particular home buyer belongs to.
Identifying Home Buyer Segments
A key takeaway from our research study on home buyer behavior within real estate market trends is that home builders should focus their marketing efforts on addressing location, pricing and their reputation in the market. All of the aspirational marketing in the world won't make a difference if the home buyer can't determine if the community is located in an area where they want to live and if the homes in that location are within their budget. Furthermore, if the same home builder does not establish trust through social proof or a long-standing reputation, buyers will more likely move on to the builder that has established trust within the market. To maximize the opportunity to attract the right type of buyers, home builders need to use maps, clear and concise pricing and testimonials in their advertising and on their website.
In our next blog, we'll share what it means to build trust with each of these attitudinal segments.
To learn more about each segment's behaviors and the opportunities they present, check out our entire Executive Summary.  You can also explore the data yourself with our Visualized Research.