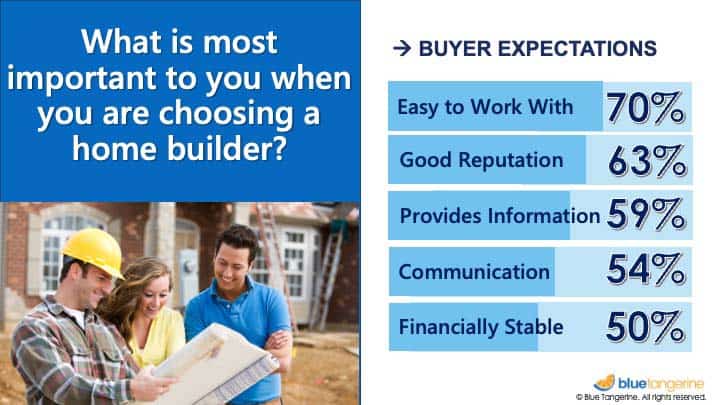 Build Your Reputation as the Most Trusted Home Builder
In the United States, the concentration in home building is driven by a few large builders. In fact, the top two home builders build more than the top 3-10 home builders combined. What accounts for this gap? It's simple — reputation.
Building your reputation as the most trusted home builder opens the door for more opportunities, according to our attitudinal research study.
Considering it takes an average of 7.2 months to build a single-family home, it's important to remember that it's a life-changing experience and a long-term investment for buyers. It requires an extremely high level of trust. Fortunately, you can create trust by understanding the unique concerns of different buyers and leading with a good reputation.
Building your reputation is a two-step process: Meet home buyers where they are, and understand what kind of relationship they want with you. In today's blog, we'll talk about some common fears and anxieties home buyers have, how home builders can alleviate them and what a good reputation means for different attitudinal segments of buyers.
Meet Home Buyers Where They Are
Builder Preferrers
This segment worries about getting their money's worth. They want the best and that means a home that looks like it's been designed by a professional. Out of all the segments, they will most likely rely on the home builder to anchor the process.
These buyers trust builders, but the process needs to be collaborative, especially with interior design features.
Researchers
This attitudinal segment worries about making the wrong choice. They spend a lot of time researching home features and neighborhoods and have found ones they like. Ultimately, they're looking for a quiet retreat. Their final decision comes after they feel well-informed about every aspect of the process.
These buyers trust themselves and need more autonomy to feel comfortable during the process. Engage them, but let them lead.
Worriers
This segment feels overwhelmed, preoccupied and uncertain about how to best navigate buying a home. They worry about making major purchases online because they feel they don't have anyone they can trust. These buyers need to build trust in themselves, the process, and the builder to engage.
Online Preferrers
This segment worries about wasting time. These buyers would buy a home online with the click of a button as long as they can see detailed images first. They are the least likely to value a home builder's reputation. Instead of becoming the most trusted home builder for them, you'll need to lead with how easy you make the home buying experience. Engage these buyers by streamlining your online offerings and reducing the steps to buy.
Step 1: Provide detailed information about your services, processes, and pricing.
When Model A is $350,000 and Model A, Package B is $380,000, give prospective home buyers a clear explanation of the similarities and differences in a variety of ways — for example, your website, printed materials in your sales center, email communication, and on the phone with the Online Sales Counselor.
You can also create a process guide online in written and video form that can be used to walk prospective home buyers through the buyer's journey from beginning to end. Include how each step works, who is responsible and how long it will take. To engage Builder Preferrers, focus on how the buyer can participate in the home design process.
Step 2: Provide testimonials and references.
Collect written and video testimonials from new home buyers 90 days, 2 years, 5 years, and 10 years out and post them to your website and social media accounts. Longevity is important because buyers that have lived in a builder's home for a long time speaks to the long-term quality of the home.
Tip: Don't overproduce videos because they need to feel authentic and can lose some of the trust they're attempting to gain. This is especially important for Researchers and Worriers.
Step 3: Lean into quality, not perfection.
Use the warranty section of your website to capture warranty issues and how they're solved. This data can be shown in charts and through videos on how they address particular issues during the construction process.
This content is applicable to all segments in our study and can be used on websites, social media and printed materials.
How to Build Your Reputation
When working with a home builder, we found that 63 percent of buyers are looking for somebody with a good reputation, second behind being easy to work with (70 percent). In our previous blog, we talked about being easy to work with, so let's look closer at reputation.
Builder Preferrers are more likely to say that home builders are important during the home buying process. Your barrier to entry with these buyers is likely lower than with the other three segments. Remember, Builder Preferrers have likely vetted and selected you from their research. But to attract their attention, you need to have a good reputation.
We recommend honing in on what buyers say is most important during the home buying process as a starting point. All home buyers rate location, home cost and durability as most important during the home buying process.
Each segment in our study cares about reputation — but for different reasons.
Builder Preferrers want to know they can participate and collaborate with the builder in the design process for the home. Showcasing examples of that process and the finished results will go a long way toward establishing your company as the one they want to work with.
Online Preferrers care about getting through the home buying process efficiently. Demonstrate the parts of the process that can be streamlined by using online tools — from interactive floor plans and virtual walkthroughs to applying for a mortgage and choosing a lender. For the parts of the process that require interaction, give them a pathway to expediency, like having an exclusive number to reach an OSC or sales professional who can guide them through the process.
Researchers want to find content easily. On the community and model pages, make your pricing and options completely transparent and allow them to compare homes. Emphasize your inventory homes because this group is likely looking at resale homes near your community.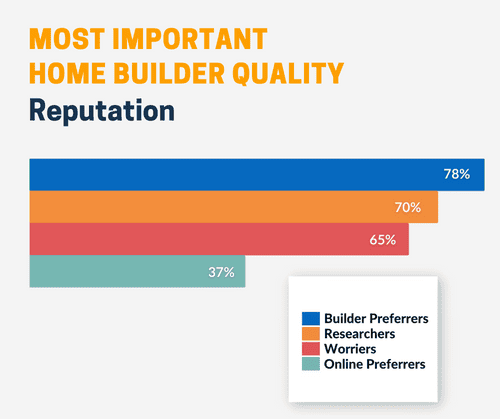 To engage Worriers, dedicate a section of your website to the ABCs of building with your company:
Use tools and features to show them how to find their home on your website.
Help them consider your home offerings and who to call with questions.
Provide guidance on how to choose a package that will fit their needs.
Guide them through the contract and give them a list of real estate attorneys to review it.
Share how they can obtain financing with a list of trusted brokers or lending institutions.
Share images and videos of the building process when construction starts.
Guide them through the inspection process with things to look out for.
Walk them through the closing paperwork before it is time to sign.
Teach them how to use the warranty section of your website and educate them on how you will support them post-closing.
Tackling this list will take a plan and additional resources, but the home builders that implement these ideas will benefit by getting ranked higher in search engines, increasing the quality of their leads, and establishing their website as a key member of the sales team.
To learn more about each segment's behaviors and the opportunities they present, check out our entire executive summary. And to explore the data yourself, check it out here.