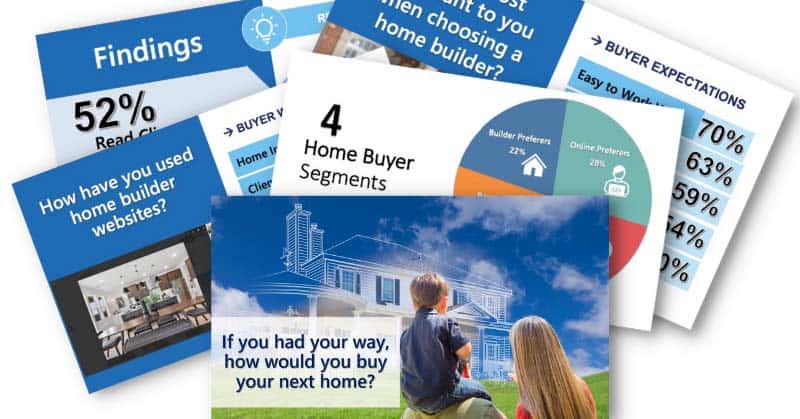 What Builders Can Learn From our Latest Research on Home Buyers
Home builders play a foundational role in the home buying process in more ways than one. Their influence extends beyond home layout and design as we discovered through our recent attitudinal research study. Today's home buyers are looking for builders to serve as guides and be trusted sources of information during the home buying process.
We found four unique segments of home buyers: Builder Preferrers, Researchers, Worriers and Online Preferrers. No matter which segment a home buyer belongs to, over half of respondents expect home builders to provide helpful and unbiased advice. In today's blog post, we'll share research on home buyers and how you can build trust with them by aligning with these core attributes.
How to Build Trust With Home Buyers
Considering one in two home buyers spends anywhere from 3-12 months researching a home or builder before selecting one, home builders have many opportunities to establish trust during the buyer's journey.
Unlike consumer goods that can have quick turnaround times from awareness to conversion, time works in a builder's favor. To take advantage of that opportunity, you should know what home buyers look for in their builders. Here are some key takeaways about what they say are important qualities in a builder:
70% of home buyers say that being easy to work with is the most important quality in a home builder
63% say reputation is the most important quality
59% of home buyers also want a home builder that provides a lot of information about building a home
Online Preferrers are less likely to care about reputation than other segments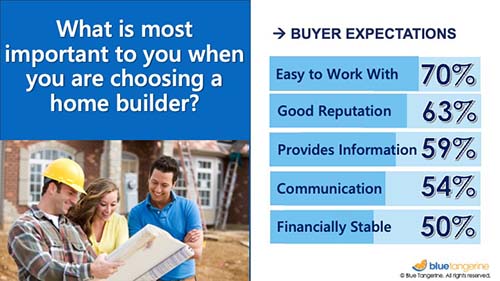 Being easy to work with, reputation, and  providing detailed information are all building blocks you can use to establish trust with home buyers.
Potential home buyers today have a lot of demands on their time (like work and kids), which means home builders that can be helpful and remove obstacles throughout the buying journey are more likely to get home buyers to sign a contract for a new home. Builders can be helpful by providing extended hours during the week where a family can visit the community and tour the model homes after work or after their kids' activities. If extended hours aren't possible, consider using a remote entry service to provide that convenience to potential buyers. This will go a long way in reducing stress and giving them more flexibility with a busy schedule.
Builders can also provide a dedicated OSC (online sales counselor) or team to answer calls throughout the day and evening hours, so prospective buyers can get answers to their questions and schedule appointments when it's convenient. Builders can also provide educational materials about their communities on their website, including the process for buying a home, hours of operation at model homes and contact information for the sales team or preferred realtor.
 Not investing in these services can hurt your conversion rates and put you behind competitors who are more helpful to buyers.
Be a Trusted Source of Information
Our research on home buyers shows that builders can solidify trust by knowing what information buyers need during the buying process. 
Four out of five respondents say home cost, location, and durability are very or extremely important to them. Builder Preferrers are the most likely to want information on the home builder. And the Researchers segmentation will complete a breadth of research before they're comfortable making any final decisions. Adapting the information you provide buyers in the segments you serve is key. 
It's not surprising that price and layout are the most important aspects buyers consider when thinking about purchasing a home. Across all segments, 42% plan to spend between $250K-$500K on their new home, but Researchers and Worriers anticipate spending under $250K. Price transparency and providing detailed information about the home's layout are essential to improving the home buying process. Building trust with buyers is about providing the information they need to make an informed decision.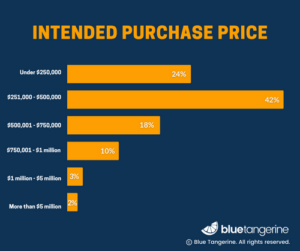 6 Tips for Improving Your Website
Your website is the central hub of information available to prospective buyers 24/7. It's the place where people go to review floor plans and pricing. However, if a builder's website doesn't visually show the model options with transparent pricing or user-friendly floor plans, buyers will get frustrated and move on. 
Consider adding these features and content elements to prevent this and increase your prospective leads. 
Make sure you visually display your model options on the community page with the most popular models appearing above the fold as someone scrolls down the page.

Include transparent pricing and high-quality photos. 

If there are multiple elevations, make it easy for the home buyer to easily scroll through the options to see the pricing for each elevation. 

Make sure the page has a clear call to action with a phone number, email address, name and picture of a real person they would talk to. 

Consider a fillable form that captures prospective buyers' names, phone numbers and email addresses, and sends it to the CRM so it'll be easier to follow up on leads. 

Consider providing at least one interactive format for the buyer to see and explore the floor plan. Enhancing this with a Matterport rendering or an animated virtual tour will improve your conversion rates significantly. 
In our next blog, we'll share actionable ways to build trust with each attitudinal segment of home buyers.
To learn more about each segment's behaviors and the opportunities they present, check out our entire executive summary. And to explore the data yourself, check it out here.