Streaming Ads that Grow Leads & Sales
Over-The-Top and Connected TV
With the surge of people "cutting the cord" and moving to streaming video services like YouTubeTV, Hulu, CBS All Access, Sling and devices like Roku, Amazon Fire TV, Apple TV, a new opportunity has emerged to reach audiences directly in their living rooms and on their mobile devices. Reaching a highly targeted and engaged audience with a short 15, 30 or 45-second video ad without the high costs of traditional television commercial advertising is now possible with OTT and CTV Advertising. As marketers, keeping up with these latest consumer trends and advertising technologies will keep your business thriving.
Learn how you can take your business Over-The-Top today!
How OTT Advertising Works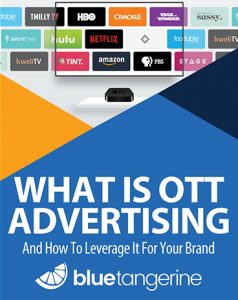 Free OTT Advertising Guide
Learn more about what OTT Advertising is, and how you can leverage it for your brand in our free guide.

To download your FREE guide, please fill out the form below.
Explore Other Digital Marketing Services