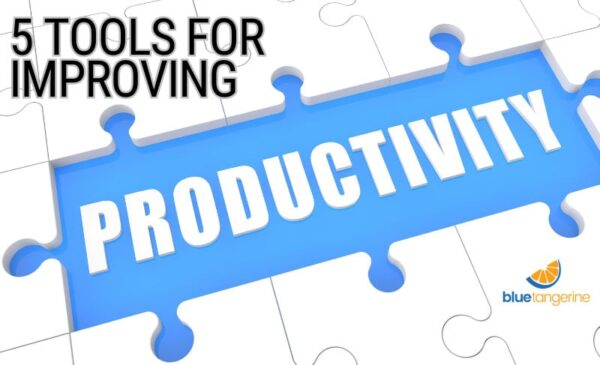 To stay competitive and efficient in the digital marketing world you have to keep up with constantly changing dynamics and technology.  If you aren't constantly learning, you will be falling behind.  It can seem like there aren't enough hours in the day.  With the prevalence of Artificial Intelligence there are so many different tools for improving your productivity, how do you know which ones will work for you?  Let us help! Here are 5 different types of productivity tools that we use at Blue Tangerine you might find helpful.

A video messaging platform that allows you to record your screen, camera, or both simultaneously, Loom lets you create visually engaging communication. You can easily demonstrate and educate team members on how to perform various tasks, or have a quick touch base with clients, sharing face to face updates and report visuals when meetings are difficult to schedule. 
Loom will help you engage people more effectively through visual communication and can eliminate the need to repeat or clarify information repeatedly. One way to do this is by using Loom to create a library of SOP instructional videos that can be referenced by any employee, at any time. In addition to providing a reference point for existing team members, it will help to train new employees and bring them up to speed more quickly. Productivity is increased when you streamline internal processes.
Instead of sending long emails or written instructions, you can use Loom to create videos that demonstrate what needs to be accomplished. Visual instructions are easier to understand and follow and can eliminate issues that often occur when emails are misunderstood or misinterpreted. A quick Loom video can also replace those meetings that "Could Have Been an Email".
2. AI-Assisted Writing Tools
AI writing tools improve productivity by automating and streamlining the content creation processes. They generate text quickly and efficiently, reducing time spent on drafting and editing. They can turn raw ideas into well-articulated final drafts by providing creative inspiration, optimizing SEO, and customizing content to specific audiences. By learning to create effective prompts you can guide your AI assisted writing tool to generate the type of ideas and content you are looking for.
Whether you need inspiration to overcome writers block, help organizing information into an outline, drafting written fully written content, or guidance to improve readability and overall quality of writing, an AI assisted writing tool can improve your workflow and support overall creativity. 


With templates for sales outreach and campaign and advertising creation, Jasper is specifically geared towards marketing efforts. By inputting brand guidelines and voice, you increase productivity by creating the opportunity for multiple people on your team, including interns, to begin the content creation process before sending it to editors and marketers.  One of Jasper's most prominent selling points, and productivity boosters, is its ability to take a brief or one-page of written content and generate a muti-channel campaign you can publish directly to the platforms of your choice.
Focused on editorial writing, and brands with specific technical writing needs, Writer improves productivity by moving content from a raw idea to a well-articulated final draft more quickly.  It can brainstorm and unblock writers, speeding up content creation by providing specific content ideas, and outlines, all generated by prompts. Using data driven tips for content it will help you optimize you content for search and specific audiences. Writer can also take written content and offer edits and changes to adjust readability and voice according to your specifications.
Tips for AI-Assisted Writing
 AI is constantly

learning,

always fact-check your information with reliable sources.

The most effective way to use these tools is to help you craft your campaigns and content, not to do it for you.

Use tools that protect your proprietary content and personal information and do not use your content for their AI general learning pool

.

  
3. Professionalism & Writing Clarity
One of the best-known tools for improving overall writing quality is Grammarly. It assists with basic grammar and spelling, and provides advice on sentence structure, tone, and clarity. It also offers tone adjustments, plagiarism checks, and has a citation tool. Grammarly is easy for anyone to use and can be used while you write in desktop applications and across the web as you move between apps, social media, documents, messages, and emails, improving the quality of all written work. It is a tool that can be incorporated into daily use, not just for generating marketing content.
Grammarly sets itself apart from other AI assisted writing tools by offering improvements to content in real-time. Instead of using user-generated prompts, it offers suggestions and edits as you write, ensuring your writing is clear and compelling while it maintains your unique voice.  By working with your writing in real-time Grammarly increases your productivity, reducing the amount of time needed for editing and proofreading later. For businesses Grammarly offers the opportunity to maintain branding and knowledge consistency in communication across organizations to ensure communications are accurate. 
Automated note taking tools allow you to focus on the conversations and ideas being discussed in your meetings without missing important details and improves accessibility for meeting participants.  These tools can be used for more than transcribing and storing meeting notes, most AI notetakers can also provide detailed reports that allow you to learn from your team's conversations and discussions, identifying patterns and key points. This not only improves productivity, but it also promotes continuous learning withing your team. Here are just a few of the benefits of AI Notetakers and Assistants that will improve your productivity:
Generate a summary in real time allowing you to catch up if you've missed part of the discussion.
Provide action items: tasks, questions needing answers, and other metrics.
Have AI powered search allowing you to search for specific content and key topics in the meetings.
Incorporate collaboration through shared pins marking important points in the meeting and adding reactions and comments into shared files.
Analyze speaker talk time and sentiment, proving learning opportunities for improving quality of presentations and productivity of meetings.
While these tools are similar, they will integrate with your workflow differently. As with any tool, it may take some experimenting to find what works best for your team.   At Blue Tangerine we are currently exploring Fireflies, Otter, and Read.
Canva is well-known for its design capabilities; it's drag-and-drop interface makes it easy to create professional-looking designs, including social media posts, presentations, and even websites with customizable templates.  The easy-to-use design tools and seemingly endless templates for inspiration make Canva a must-have for improving your productivity.
Canva's tools will streamline your team's creative process when you incorporate them into your daily workflow. One of our favorite features in the ability to work together in real-time on a design or project, brainstorming and making edits and suggestions as needed.
With the ability to use templates and have brand control, in addition to tools like their AI-powered content planner, Canva is perfect for increasing your design productivity and easily manages brand consistency across design teams.
One of the best ways to reduce the amount of time you spend on wasteful tasks and activities is to understand and utilize the technology available to help you. Using these tools will help to jumpstart your creativity and streamline your work processes, improving productivity.