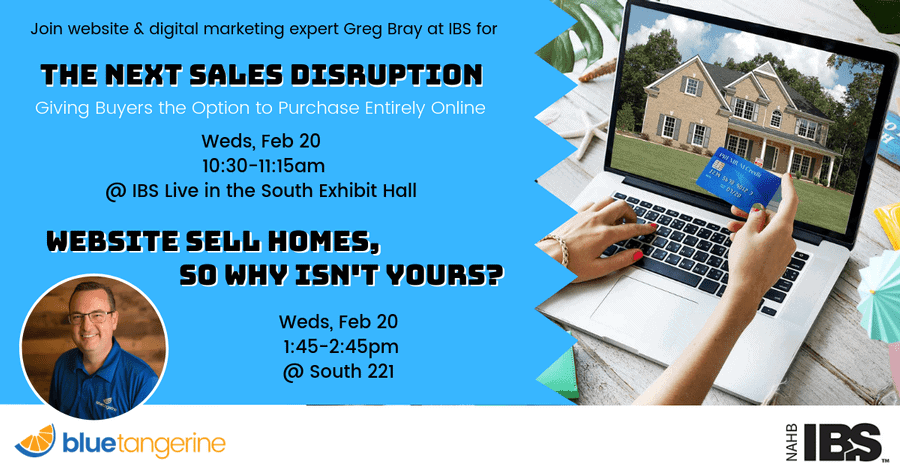 You may have heard, technology is moving fast. That's why you shouldn't pass up a chance to listen to industry leaders speak at the upcoming International Builders' Show (IBS).
Blue Tangerine President Greg Bray, will take the mic two times during the mammoth Vegas show.
Greg's been a member of the builder community for almost 20 years, and as an overseer of the building industry's premier digital marketing agency, he has his finger on the pulse of the latest trends that can help your home building business capitalize on the ever-changing tools of technology.
Please stop by the Blue Tangerine booth SU1336 to say hi and don't miss these educational opportunities with Greg.
Greg's Speaking Topics:
Wednesday, Feb 20 10:30 – 11:15
Location: IBS Live, SU873 (on the South Exhibit Hall stage)
Speakers: Greg Bray and John Rymer
Learn the top opportunities and obstacles in offering a fully-digital new home purchase program, the functionality customers want and how to position your company accordingly. Explore how customers feel about buying a new home entirely online. Identify the technology challenges of delivering an online-home sales purchase experience.
Wednesday, Feb 20 1:45 – 2:45
Location: South 221
Speakers: Greg Bray and Erik Cofield
Discover key elements required on a successful home builder website. Identify gaps in the lead follow-up process that can cause missed sales opportunities. Learn what can be implemented to improve your website's effectiveness in generating new sales leads.