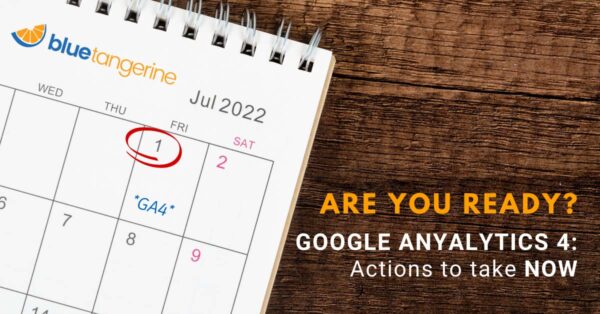 UPDATE: March, 2023
The July 1 deadline for the mandatory migration to GA4 is rapidly approaching.  If you haven't yet set up your properties, don't waste another minute.  The sooner you set up your properties, the more YoY data you will have for comparison next year.  Just as importantly, it takes time to learn how to navigate GA4, not just finding your way around the platform, but figuring out how to produce reports that provide the information you need to make smart decisions about your website and marketing strategies.
Earlier this year, Google announced they will sunset the current Universal Analytics properties in 2023.  Google says, "On July 1, 2023, standard Universal Analytics properties will no longer process data.  You'll be able to see your Universal Analytics reports for a period of time after July 1, 2023. However, new data will only flow into Google Analytic 4 properties."  Although this change doesn't happen until next year, there are things that need to be done within the next few months so you are prepared and don't lose valuable insights when the official change takes place.
If the change to Google Analytics 4 isn't until 2023, why do I need to worry about it now?
In order to use Google Analytics to compare your website performance year over year, you need to take action now. Set up a Google Analytics 4 (GA4) property before July 1, 2022, to begin collecting data you can use for this comparison.  It isn't necessary to switch to the GA4 reporting tools just yet, but setting it up will make life easier for you next year when you migrate to the GA4 reporting.
We've outlined the steps for creating and configuring a Google Analytics 4 property for you here so you don't miss out on collecting your data in the new tool.
Steps to Set up GA4: 
Create a GA4 Property in Google Analytics 

Add GA4 tracking tags to your website 

Review and update GA4 configurations  

Add events and conversions 

Connect Google products

 

Testing
TIP
The Blue Tangerine team is ready to help you set up your GA4 accounts.  Connect with us here to find out more.
Stay connected to our blog and social media for more tips and updates on how to utilize the new GA4.
Step 1: Creating a GA4 Property from your existing Universal Analytics Property
From your Google Analytics Admin console, click "GA4 Setup Assistant" for the property.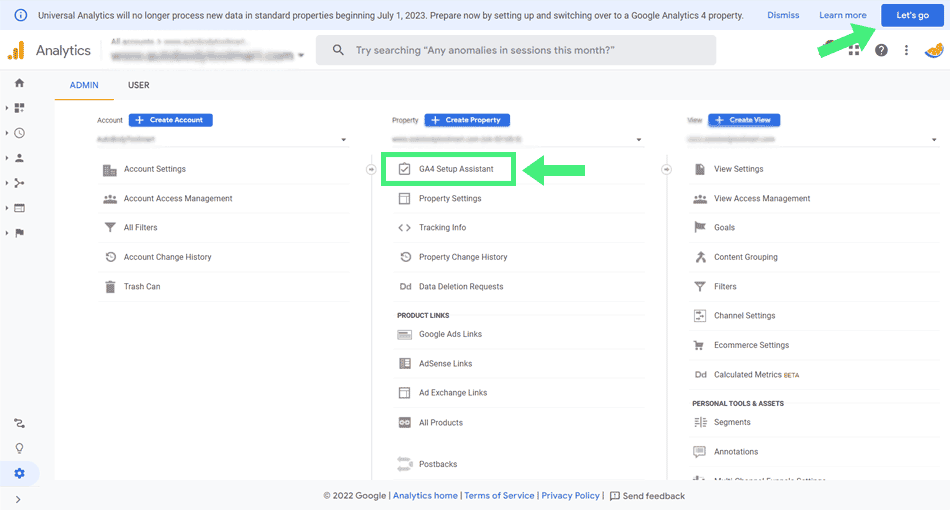 Click the "Get Started" button.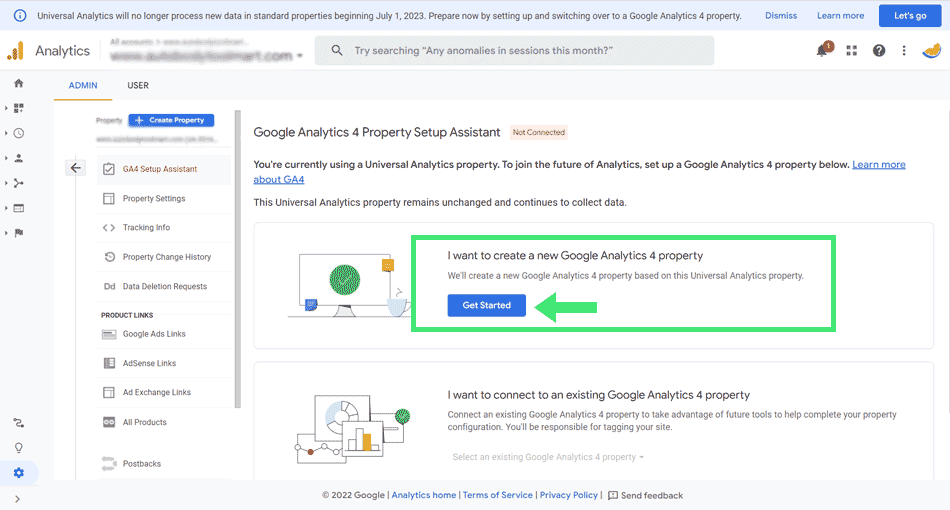 Based on how your current Universal Analytics tags are set up on your website, you may or may not be able to migrate existing tags. If you are able to, you may check the box to "Enable data collection using your existing tags." Otherwise, continue by clicking the "Create Property" button.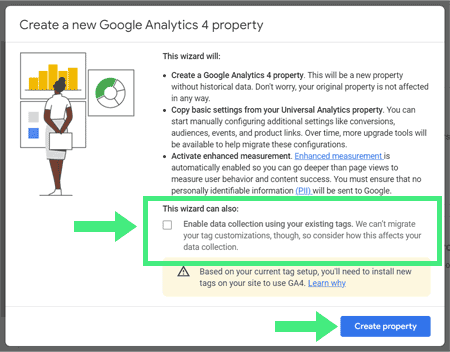 You will see a page that confirms you have successfully connected your property to GA4.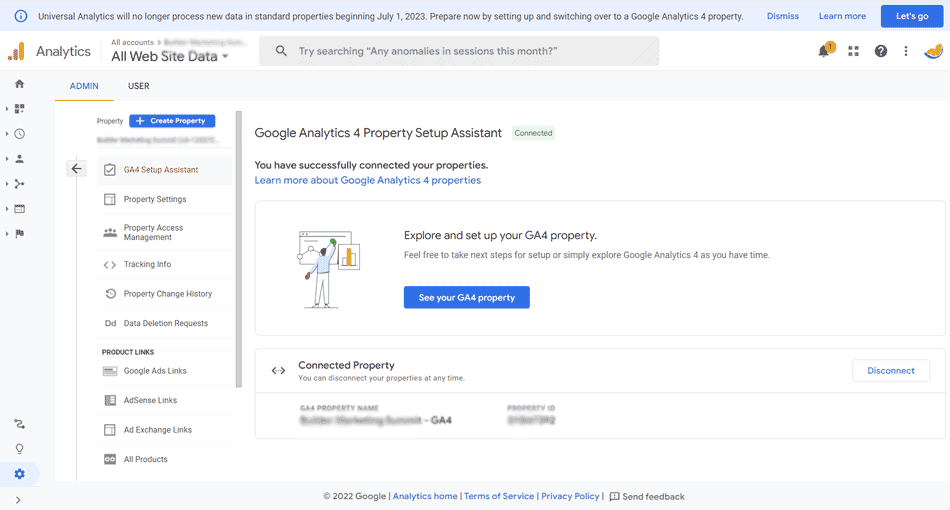 Step 2: Add GA4 tracking tags to your website
Now that your GA4 property has been created, it's time to install the GA4 tracking tags onto your website. You can either have your website developer add the tracking scripts directly to your website's code or if you use Google Tag Manager, you can add it there.  
Click the "See your GA4 property" button.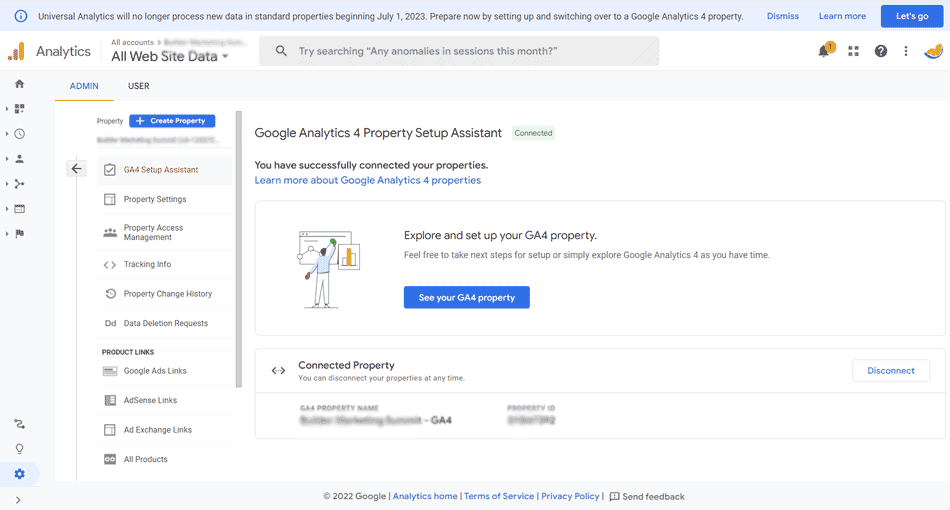 Click the arrow in the "Tag Installation" section.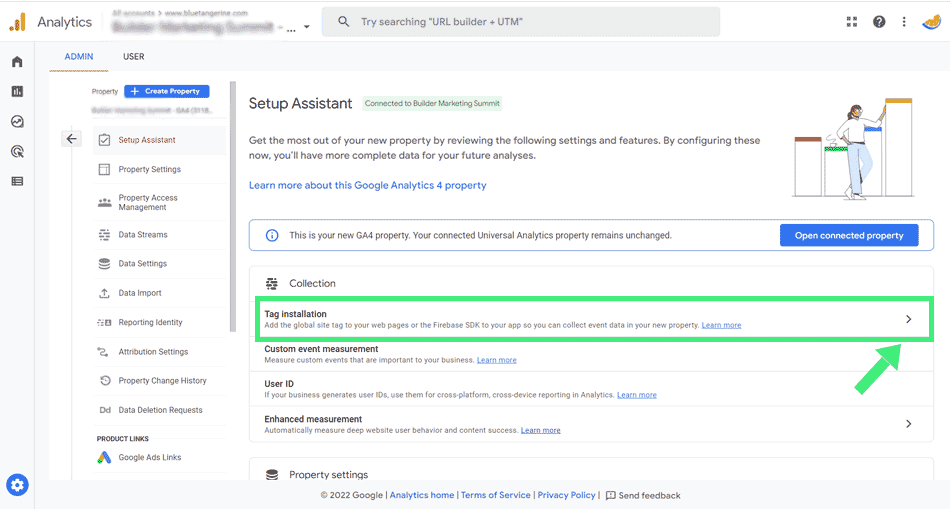 Click the arrow in the data stream.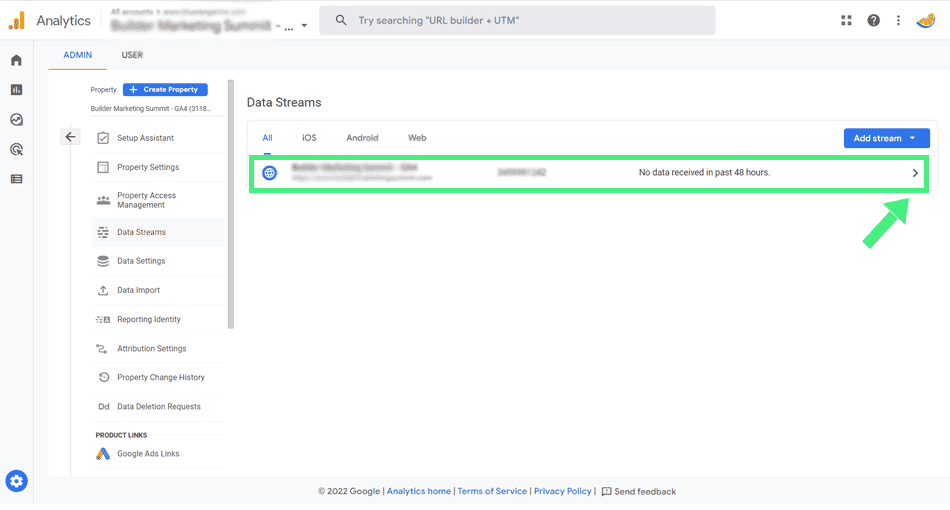 Select the option for installing your tracking tags, depending on how your existing Google Analytics tracking is set up. Follow the instructions presented on the screen.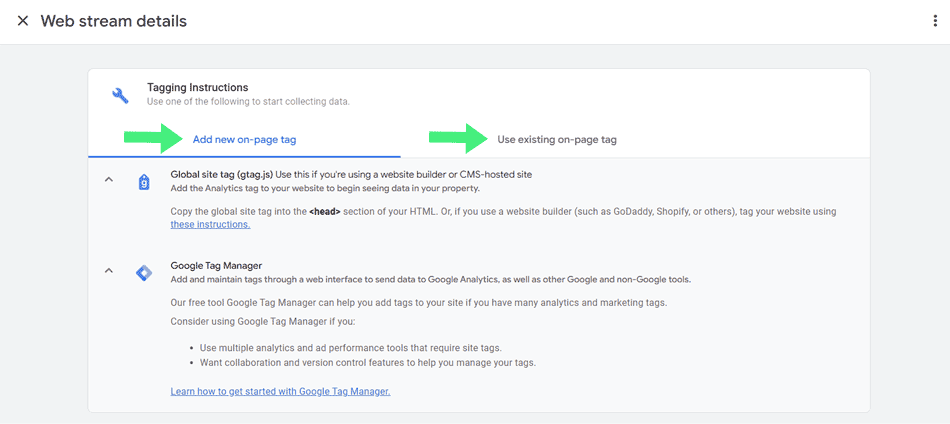 Step 3: Review and Update GA4 property configurations
Although the basic steps to create and install your GA4 property are complete, you will want to review the standard GA4 configurations and make any necessary changes. Here are some of the configuration settings to review.  
Admin > Data Settings 

Admin > Attribution Settings 

Data Streams > More Tagging Settings 

Configure > Custom Definitions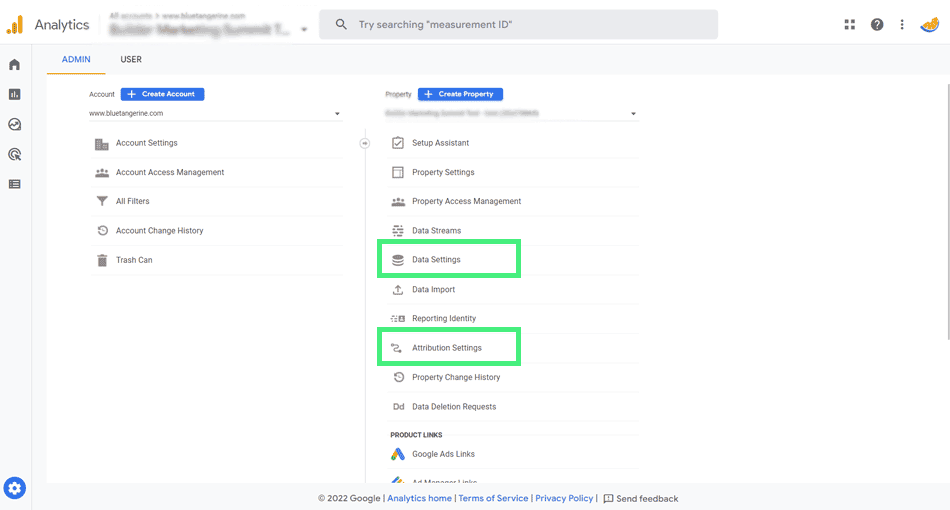 Step 4: Add Events and Conversions
GA4 automatically sets up its standard events to track in the reporting. If you have other events that you want to track other than these default events, you will need to set them up per the GA4 standards. You can read more about those here.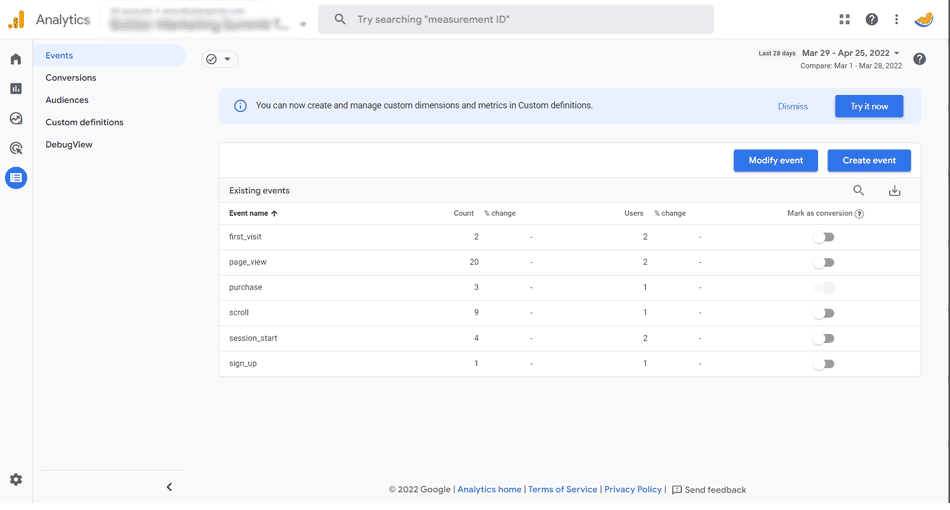 Step 5: Connect Other Google Products
If you're using Google Ads, Google Search Console, or any of these other Google products, be sure to link your accounts to this new GA4 Property. To do this, go to the GA4 Admin console, click on the product and follow the instructions to establish the links.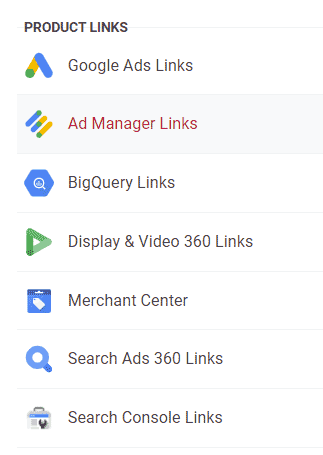 Step 6: Testing
Now that you're done setting up, installing, configuring, adding events and conversion and linking, it's important to do a final test to ensure that data is recording in all of the areas as expected.  
As you browse your website, use the Realtime reports to ensure that your activity is being recorded. Also, test any events and conversions that you have set up to ensure they are recorded in the reporting. Once you've confirmed the initial Realtime test results, wait about 24-48 hours to check the standard (non-Realtime) GA4 reports. At that time, the data should be available for you to review for a final check.
Congratulations! You're now set up on Google Analytics 4! Be sure to stay tuned to the Blue Tangerine blog for more updates on how to utilize the new features of GA4. And, we're here to help if you need it, just contact us or give us a call 321-209-6900.
Do you need help setting up Google Analytics 4?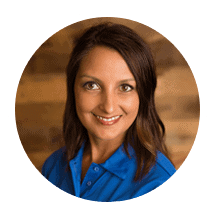 MILA SORENSON, SR. DIRECTOR of MARKETING & CLIENT SERVICES
With over 25 years of marketing experience, Mila specializes in helping clients formulate marketing plans to capture more leads, sales and ROI through services such as SEO, Paid Search, Email Marketing, Social Media, Geofencing, and Website Design.