Creating Immersive Experiences
Gone are the days when a home builder constructs a model home, prints a brochure, and calls it suitable for marketing efforts. Today, savvy home builders are harnessing the power of technology to transform the home-buying experience. A recent study from Blue Tangerine reveals that 70% of potential homebuyers visit a builder's website for home inspiration. And what better way to inspire than with immersive experiences like interactive floor plans, 3D renderings, virtual tours, animations, and visualizers? Interactive building visualization tools take potential buyers on an immersive and captivating journey to discover the perfect home.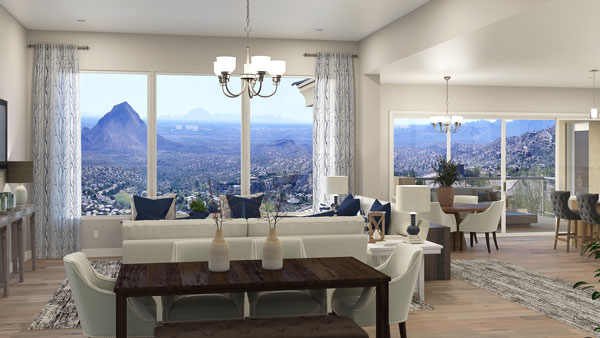 Did you know that for a $5K investment, you can create an interactive floor plan, three 3D photo-real exterior elevations, and an interior virtual tour of a pre-built home? With these online tools, you can market to potential homebuyers across the planet. Contrast this to the cost of building a model home. Not including land, a builder will spend several hundred thousand dollars constructing and furnishing a model home, giving them the potential to market to a few hundred or maybe a couple thousand potential homebuyers who ultimately stop by. There are no guarantees with either avenue, but the low upfront cost is one of the many reasons digital tools are taking the lead in homebuilder marketing. Let's look at a few more:
Time Savings for Homebuyers and Builders
Digital tools streamline the house-hunting process, saving buyers and builders valuable time. By virtually exploring various homes and communities in advance, homebuyers can narrow their choices before committing to an in-person visit. Eliminating unnecessary visits benefits both builders and homebuyers.
Unprecedented Visualization
Interactive floor plans (IFPs) enable users to explore the layout and flow of a home, helping them see how their daily life will unfold within its walls. Architectural renderings are incorporated into the IFPs, providing a realistic visual representation of a home's exterior. Kicking it up a notch, 3D home walkthroughs, including virtual tours and animations, bring a home to life with or without a VR headset. These tools create an emotional connection and heighten the desire to own a home by bridging the gap between imagination and reality.
Immersion
Home builders transport buyers directly into a property with virtual tours and animations. User-controlled virtual tours entice online visitors to explore different rooms independently, while guided pathway animations offer a complete home tour using a video format. Virtual reality home immersive experiences lead to a stronger emotional connection and increases the likelihood of a purchase.
Customization
Interactive floor plans allow buyers to see how adding structural options changes a home's floor plan and pricing. Visualizers encourage experimentation with various design options, such as colors, finishes, and materials. By providing this level of customization, builders enable buyers to visualize the space as their own. In addition to creating an emotional attachment to the property, these tools also build confidence in the buying decision.
Lead Generation
Digital tools generate leads. The top interactive floor plans have a save button that transmits the plan with selected options and furniture layouts to the buyer and builder, thus opening the door for conversation. With a contact button on the virtual tour page, interested buyers can easily inquire about the showcased properties, creating opportunities for direct engagement and conversion.

Market Expansion
Remote accessibility expands the potential buyer pool, increasing a builder's exposure and offering a convenient solution for buyers relocating from afar. By reaching a wider audience, digital tools enhance the chances of making a sale.
Interactive floor plans, 3D renderings, virtual tours, animations, and visualizers are powerful marketing assets for home builders. These visually captivating tools attract potential buyers to a builder's website, engaging them from the first interaction. By providing an immersive and interactive experience, builders can differentiate themselves from competitors and, ultimately, increase sales conversions. With the ability to reach potential buyers across the globe, virtual reality is the future of homebuilder marketing.