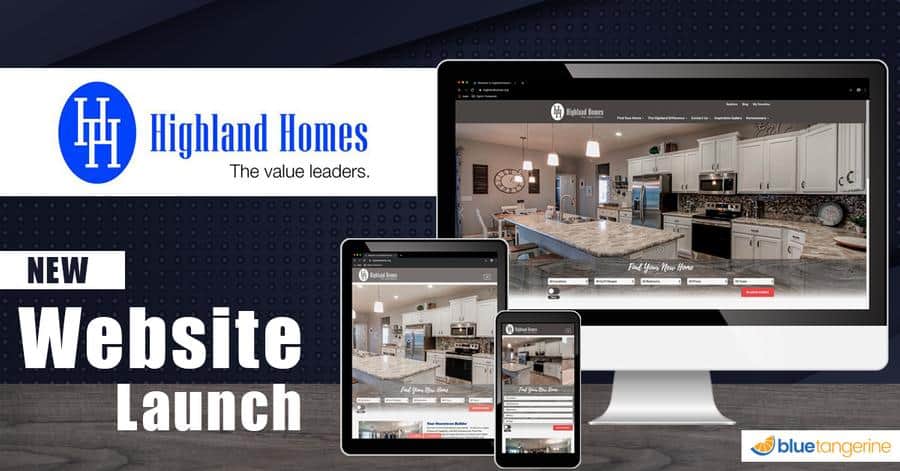 Congrats to Highland Homes on the launch of their new website. Highland Homes of Florida started in 1996 and has steadily grown into one of the largest home builders in the nation with a reputation for quality, value, and putting customers first.
Blue Tangerine had the privilege of working with Highland Homes to create a new site that adds even more value to their customer's experience. With new home options in numerous locations, Blue Tangerine and Highland designed a site that makes the customer experience simple with multiple search options so customers can find the right home in the right location.
"Sticky" is a great way to describe their website with loads of useful content, such as a Path to Ownership page and a Financing page with useful info such as a mortgage calculator.
Another helpful feature is the Inspiration Gallery that offers a list of design possibilities allowing customers to add options to their Favorites to view again later, on the website.
Browse the Personal Selection Studio designed to help customers visualize how colors and features will look in their new home. Prospects can personalize homes, inside and out. Hundreds of options are available to choose from, including cabinetry, appliances, countertops, lighting, flooring, paint, home audio, electrical, energy-efficiency products, etc.
Be sure to check out the Testimonial section that displays videos, pictures, and messages from happy Highland homeowners. It's a powerful page that builds trust with prospective buyers.
Notable features of the new website:
Easy-to-use navigation
Mobile-friendly & responsive design
Home search with integrated map
Searchable inventory
A variety of customizable design options
Congrats to Highland Homes, and enjoy your new marketing tool!
For more information on how to improve your home builder marketing, click here!