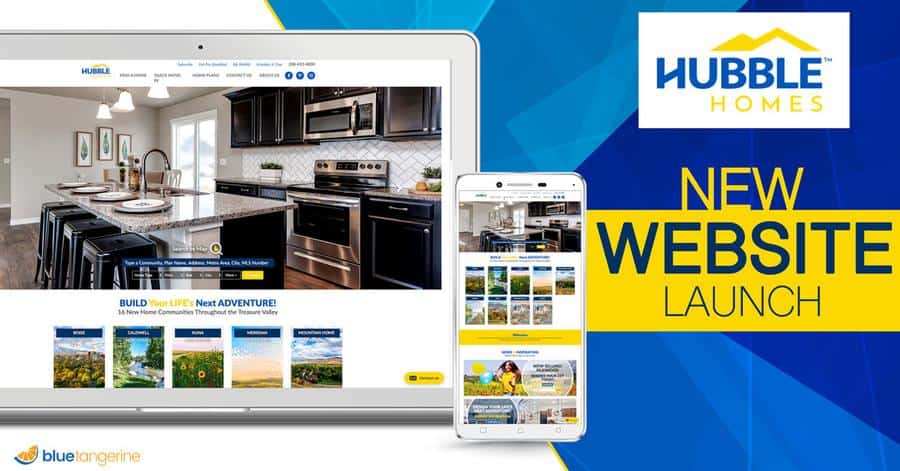 It was a pleasure partnering with Adlanta Creative Group to create a new website for Hubble Homes. For nearly a quarter of a century, Hubble Homes has provided their Idaho customers with exceptional quality and value.
You'll see their new site gives extra effort to deliver value by focusing on the customer journey and solving common homebuyer pain points. Customers are likely to come to this site and stay with the wealth of useful content. There are a lot of "to-dos" on the homebuyer checklist, and the Hubble Homes site provides solutions. Happy prospects turn into customers.
First, the navigation is simple with a clean and intuitive design. Customers can easily find and compare homes of interest. Whether prospective buyers want to build or find a house in a specific community, strategically organized content provides convenience. Great imagery and even floor plans give homebuyers the desired info to take the next step.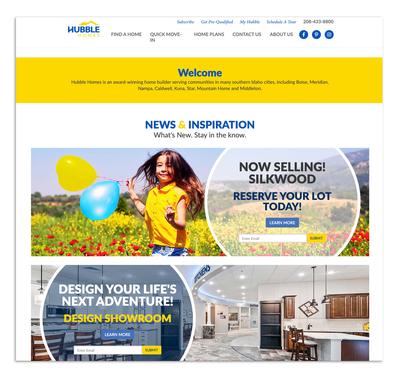 Speaking of the next step, customers prefer different means of communication to schedule a visit. You'll see the Hubble phone number is always present as well as a button to the Request a Tour page. On the Request a Tour page, customers can schedule a tour on their own terms without having to talk with anyone.
Another great feature is the "My Favorites" tool that offers incredible convenience and offers a compelling reason for visitors to return to the site. (It's also a great way to build upon a qualified lead database.) Users can browse through the Hubble Homes website and save the communities and models of interest. Furthermore, they can easily compare homes side by side.
To help with sales, each home plan displays the number of views. This helps the customer quickly discover the most popular plans.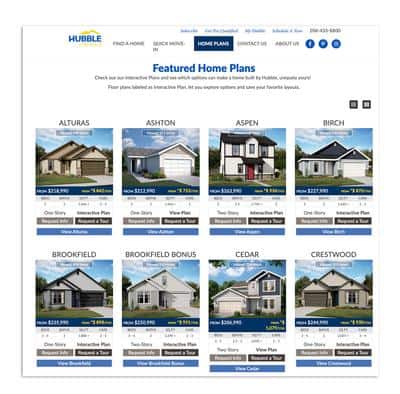 The website goes further to help with the homebuyer journey with the "Get Pre-Qualified" page that links visitors to a lender. With the form on the page, there's another reason to stay on the site.
It's impossible to think of everything, but the Hubble Homes site comes close.
As your browsing the site, be sure to notice these notable features as well:
A Financing page with info and a mortgage calculator
The all-important Testimonials page and the Refer Friends & Family gives Hubble extra credibility to prospective buyers
The Warranty info page provides info in an organized easy to digest manner
Hubble Homes not only makes it easy for buyers but also for realtors with a Realtor Login page
Online Chat to provide real-time solutions to home buyers
Before this turns into a novel, go check it out for yourself.
For more information on how to improve your home builder website, click here!