For many of our e-commerce clients, the 4th quarter represents the time of the year that makes (or breaks) their company's financial performance. This isn't anything new and yet each year seems to be fraught with more and more stress for our clients because there are big disruptors in the marketplace that are changing how they do business right before their very eyes.
Even as little as five years ago it was unthinkable that Amazon would represent more than 50% of e-commerce sales during the holiday season and that the "last day to shop" would be December 21st. However, these are all realities with which modern companies are dealing. How do they maximize their sales during this ever-changing landscape?
Here are three important planning ideas for the holiday shopping season that will help you achieve success: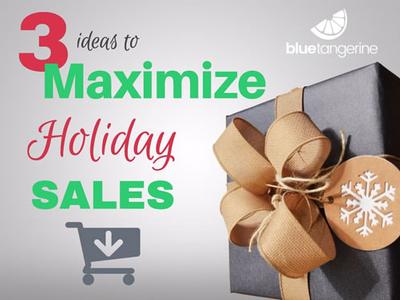 1. Prepare Your Black Friday and Cyber Monday Plan Now
If you are selling products to consumers during the holiday season, make sure you have a Black Friday and Cyber Monday plan. Consumers are engaged on these days (see the graph below from Slice Intelligence), and while they are looking for bargains, you can get a piece of the pie by figuring out now what your best offers can be on those days.
2. Plan Ahead for Those Last Minute Shoppers
Make sure you have a late ordering plan for those last-minute shoppers. Look at how the sales curve extends beyond December 19th. Are there things you can do to extend your selling season by one more day to accommodate the last-minute shopper? For some of our clients, it literally can be worth up to 5% of the sales for the entire holiday season if they can extend their shipping deadline by one day. Can you upgrade your shipping for "free" from two-day to next day to incent shoppers to take the chance that their gifts will arrive by or just after Christmas Day? Are there products which you sell that you can send via the post office?
The post office is doing some limited Christmas delivery…can you take advantage of this for your business? Planning now for the last-minute shopper can reap significant rewards in incremental holiday sales.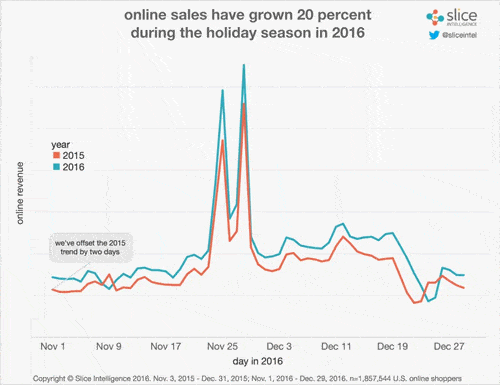 3. Remember it's Not Over on Christmas!
What about the post-holiday shopper? Look at the chart from Slice again…there is a bump after Christmas and some of that revenue should be going to your business. Do you have items for which you know that you will have extra inventory? Are there products for which you can get more inventory to do a post-holiday sale? Can you offer your "winter" products early as an exclusive to your post-holiday shopper?
These are just a few ideas to help you get a jump start on maximizing sales opportunities this holiday season. If you need help with your e-commerce strategies, contact us today!