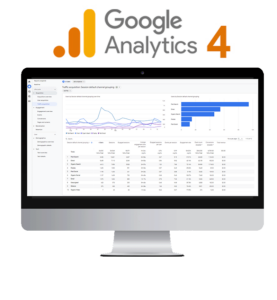 Google Analytics 4 (GA4) is coming on July 1, 2023, and will replace Google's current Universal Analytics.  If you want to continue using Google Analytics this switch is not optional.  To ensure you're getting the best insights into your website's performance, you must set up and configure GA4 properties to collect data as soon as possible. Once the GA4 property has collected data, then you'll be able to discover the analytics available in the reporting. Here are five insightful reports you can use to gauge the success of your online performance.
Overwhelmed by GA4, or just don't have the time to create reports that will give you the information you need?  Blue Tangerine has team members with experience certified in GA4 ready to help you get up and running.  Give us a call today and we'll get you started collecting that valuable data.
Knowing where your website traffic is coming from, which channels are pushing the most visitors your way, is critical to understanding how effective your marketing strategy is and provides information that is crucial to optimize your website for better results.
Traffic Aquisitions reports identify where your visitors are coming from, helping you to identify which marketing channels are driving the most visitors to your site.  If you can see that paid search is driving the most traffic and conversions, you can consider reallocating funds to support those efforts. If you notice your organic search isn't bringing many visitors you can spend some time on your search engine optimization (SEO) efforts.
How to find the report: Reports > Acquisition > Traffic Acquisition
The home page of your website is not always the first page visitors encounter so paying attention to the landing pages report in GA4 is an important piece of your analytics strategy. Landing pages are a good measure of organic search and provide insight into what keywords are working in your favor.
Utilize filters in your landing pages report to narrow in on specific information.  Exploring this data gives you the opportunity to make changes that will help you to rank higher with  search engines. For example, if you notice a specific page leads to a higher conversion rate, you can focus on optimizing that page to improve your site's overall performance. 

How to find the report: Reports > Engagement > Landing Page
GA4 is events based and as such, there are a lot of events to view; it will be up to you to decide what the key events are that make the most sense to you.  Not all events are about conversion rates, remember it can take many interactions with a visitor before you get a conversion.  Events can track actions like clicks, downloads, form submissions, video plays, page views, and time spent on individual pages.  What are the actions you want them to take that will keep them engaged and eventually lead to a conversion?  
Analyzing these different user actions and making month-to-month comparisons can help you make data-driven decisions to improve the user experience, increase engagement, and ultimately drive more conversions and revenue for your business.
How to find the report: Reports > Engagement > Events
To really understand how your marketing is working it is important to not only look at conversions, but the lead's journey.  What touch points are people taking as they come to your website before they convert?  What was their journey in the past 30 days?

When you use conversion path reports to understand your customers' paths to conversion, and how different attribution models distribute credit on those paths, it will show you which marketing channels and campaigns are driving the most conversions.  This information allows you to make shifts that improve your marketing strategy and drive more revenue for your business. 
In the picture on the right you can see a user came to the website 3 times before converting, this view of the customer journey reminds us that time and multiple marketing messages are needed to get a person to convert.
How to find the report: Advertising > Attribution > Conversion Paths
No two businesses are alike; specific data important to you may not be available in the standard GA4 reports.  Exploration reports are custom reports that provide the opportunity to build your own reports to provide data that suits your individual business needs.
It is important to take time to explore and experiment with these free form reports to find the data you need, broken down the way you want it to be.  You can build your reports with the dimensions and metrics you want to help you understand how customers are using your website so you can increase conversions.
My best advice for these custom reports is to experiment as much as you can.  This is another good reason to not wait until the last minute to set up GA4.  As you work with your data side by side with the reports in Universal Analytics, you may find that certain data you are used to using isn't available, and you will need to experiment to see how to find it in GA4.  The longer you wait to start collecting data in these reports, the less data you will have for comparisons later.
How to find the report: Click the Explore button on the left navigation
Use Filters to Refine Your Data
Filters are powerful tools to enhance your reports with more specific information, allowing you to see results focused in on a particular dimension. Here are some examples of dimensions that can be used to filter results:
Focus on location specific data: see performance by city, country or region.
Examine traffic from specific sources to analyze marketing efforts: for example you can produce reports with specific information about social media, paid and organic search results, and email marketing.
See results by device: mobile, tablet or desktop.

How to use filters in your report:  Click on the Add Filter+ button toward the top of the report. Add your filter conditions (up to 5).
Adding another column or dimension to reports in GA4 will get a more complete view of your data and gain more insights into how your marketing and your website are performing. This additional column in your reports allows you to:

Break down your data into smaller segments and see how different factors are affecting your results. If you serve multiple geographic markets you can create a column that breaks down your data by each location.
Identify trends and patterns in your data that you might not have seen otherwise.  For example, adding a column that segments your traffic by device can give you information to use when developing your marketing strategy.
See data broken out in smaller time increments to see patterns by months, weeks, days or even down the hour of the day.

How to add a dimension in your report: Look for the + symbol to the right of the first column in tabular reports.
Segments are a more robust filtering tool found only inside of Explorations reports.  Segments offer a broader understanding of your users, sessions and events by enabling you to refine the results based on the criteria you define for the segment. Using segments inside of Explorations can be used to:
Examine specific criteria like location, user interests, or their behavior.
Compare different groups of users. A segment of users who have purchased a product compared to a segment of users who did not purchase a product could identify differences that may be influencing their behavior.
Target your marketing campaigns. When you identify a segment of users that is interested in a specific product, or visits a specific page, you can use that data to inform your marketing campaigns, improving their effectiveness and getting a better return on your investment.

How to use segments in your Explorations report: Click the + symbol next to the Segments section. Select the type of segment (user, event or session) and define your criteria.
These five reports inside of GA4 will provide data on how well your marketing strategies and your website are performing.  They take time to learn and a lot of experimenting to discover what will work best for your business.  None of this can be done until you set up your GA4 properties and start collecting data.
Overwhelmed by GA4? Not sure when you'll find time to get everything set up so you can collect the data you need?  A partner who understands the new platform, and the importance of good data to your business's success, is vital.  We have team members with experience certified in GA4  ready to help you get up and running.  Give us a call today and we'll get you started.
FOLLOW US