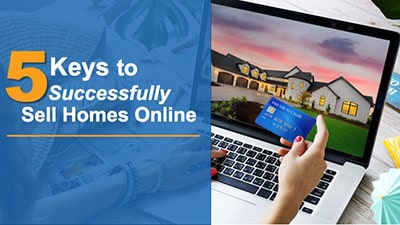 Can you successfully sell homes online?  Is it really a feasible option for new home builders?
The simple answer is, "Yes".
But what does it mean to sell a home online?  And how do you make that happen, especially if it is a new concept for your company?
In his presentation "5 Keys to Selling Homes Online" Greg Bray, President of Blue Tangerine, walks you through five key factors necessary to create an online buying experience that will attract new home shoppers and turn them into your customers.
He explains that selling homes online combines several pieces of the home buyer journey including the ability to view and reserve available lots, select models, interior options, and finishes, complete mortgage applications, complete sales contracts, receive construction updates, and manage warranty processes.  Greg also addresses the misconception that providing online buying options creates an unassisted process or one that includes buyers making a purchase sight unseen on their first visit to your website.
Watch Greg's presentation to learn more about these 5 Keys to Successfully Sell Homes Online
1. Create and maintain a high-performance website.
Engaging, mobile-optimized websites with pages that load quickly and are easy to navigate are crucial to selling homes online.  The ability to provide real-time inventory updates, easy-to-use home search and filter tools, and prominent lead capture tools are essential to engaging customers and increasing sales.
2. Create trust and build connections with buyers.
Interactive website tools that provide virtual tours, video galleries, and home renderings will keep potential buyers engaged on your website.  Providing information and education about your product and the home buying process, alongside reviews from customers who value your work and your relationship, builds trust.
4. Provide real-time response and customer support.
Selling homes online does not eliminate the need for human interaction and support.  Online sales consultants trained to work side by side with your sales and marketing teams,  along with utilizing automation, artificial intelligence, emails, texts, and calls will create a high-performance online sales team. 
5. Integrate online transactions to complete the home buyer journey.
Buy online website tools that include reservation systems, payment applications, options selection, and mortgage pre-qualification rounds out the buyer journey. 
Ready to get started?  We are ready to help!
Reach out today and our team of experts will get you on the path to successfully selling homes online.
It IS possible to successfully sell homes online, you just have to have the right combination of tools to help you engage with your customers, creating an exceptional home buyer journey. Contact us today, we'd love to help you get started.