A few weeks ago, I put together a list of my top 5 trends in paid search for 2018. My top spot went to the "rise of the machines", voice assisted devices. You know them better as Alexa, Cortana, Siri and the creatively named Google Assistant. At the time, I offered ways to identify searches made with the use of these virtual assistants. My main recommendation (as you can see below) was to review your search query reports for key operators like "ok google" and you should still mine for these key operators. But, on May 8th at the Google I/O 2018 conference, it was stated they want Google Assistant to have a more natural conversation, without having to drop in the "Hey, Google." No word on when this change will happen, so mine while you can.
Here are 5 key paid search trends to be aware of:
1. Rise Of The Machines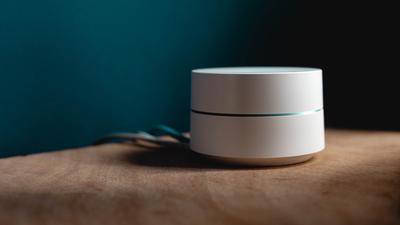 Alexa? Hey Siri? Ok Google… Voice assisted search has improved significantly on computer and mobile devices. Thus, queries have become more natural and conversational. Now virtual assistants are invading your living rooms and kitchens! Here are a few steps to consider while developing campaigns:
Review your search query reports for key operators like "ok google"
Majority of the voice searches are for local information
Voice searches are more conversational
Update your negative keywords (who, what, where and why might be part of the "conversation")
Build out new voice search campaigns
Hope the next voice assistant doesn't come in the form of a head with eyes!
As mentioned earlier, Google has once again changed the game by innovating their Google Assistant to have more conversational intelligence. So stay tuned for how this will affect the search landscape. Check out the video at the end of this blog for a very interesting live calls made by Google Assistant!
2. Call Tracking
Can you track me now? Calls to U.S. businesses from search, social, display, or other paid ad campaigns ads have grown 110 percent since 2014*. Do you have a different phone number on your website than in your catalog? What about different phone numbers for Paid Google, Paid Bing, Facebook Ads, etc.? Why do you think Google & Bing improved their call tracking in recent years? Here's a sample of what you can do by tracking calls:
Segment calls by medium
Serving a local number
Optimize for time of day
Track high value keywords
Get call details & recording
Report the true value of your campaigns
3. Amazon Strategy
Maybe you got started with Amazon products ads and then got dropped. Provided you had foresight and started selling on Amazon directly, you stayed ahead of your competition. Now Amazon is competing with your Google paid search campaigns and winning. Here's are few things Google has introduced to help you compete:
Google Express – Delivery of goods from Target, Walmart, Costco and more
Local Services by Google – Helps build trust with local businesses & professionals
Purchases on Google – Aimed at Android devices, along with Google wallets making buying easier
4. Paid Search Metrics By Market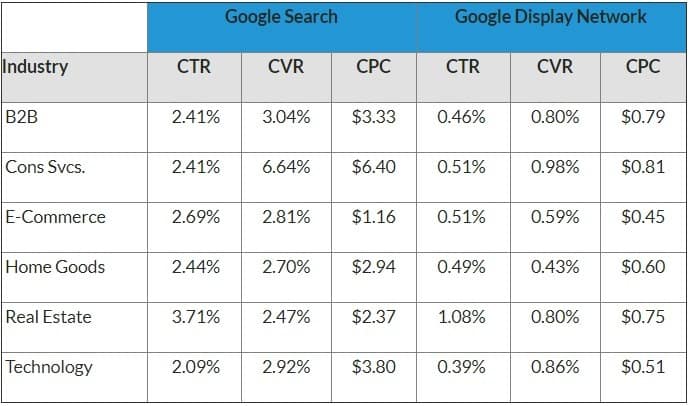 Each year WordStream updates their "Benchmarks for Industries" based on their portfolio of clientele. Below are average metrics of some of the industries. How do your campaigns measure up?
5. Automation & Account Maintenance
With the rise of automation (more machine learning), more and more of the daily tactical tasks will be handled by the search engines or 3rd party programs. Paid search marketers will have more time to be strategic about campaign development, do more creatively, spend more time analyzing and testing. When's the last time you audited your sitelinks?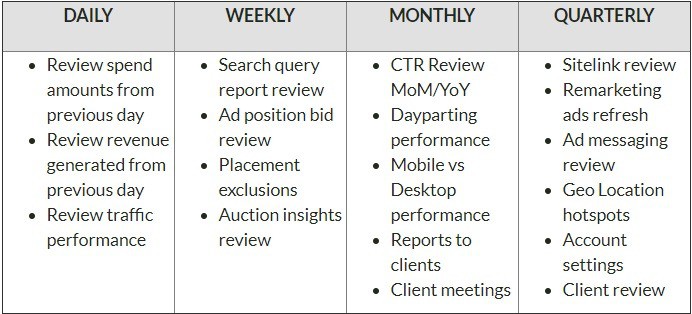 CONCLUSION
With the addition of machine learning, automation and virtual assistants are evolving quicker than ever. Seems like the older I get, the slower I get. But with artificial intelligence, seems like the older they're getting the faster and smarter they are.
I've enjoyed digital marketing/paid search since 2003 and the challenges we faced back then seemed like child's play compared to today. If you're managing your own paid search campaigns but aren't getting to the next level, you might need some help. If you'd like an assessment of your current paid search efforts, contact us today at Blue Tangerine.
One final note! If you haven't seen how the Google Assistant can make human sounding calls on your behalf look at the video. Convenient? Yes. I'm not sure how to feel about this yet.