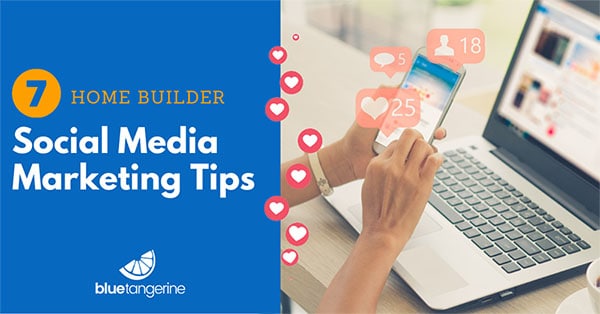 From well-established to newly founded companies, home builders use social media to grow their brand and ultimately, increase leads and sales.
As with any major purchase, the sales cycle tends to be much longer in the home building industry than in standard Ecommerce. This behavior is reflected in how potential home buyers navigate their research process within social media. Trends show a prospective lead will follow a home builder brand on social media for months, even years, before closing the deal. This creates a need for you to implement a cohesive social media marketing strategy to grow your brand and connect with your target audience while they virtually window shop your homes.
Here are 7 home builder social media tips that will help you build a successful strategy:
1. Share Community-Centered Images
When you get to the heart of it, the target audience for all home builders is real people and families seeking to build their ideal life. So why not remind consumers that your community, and their future neighbors, are also real people? Share images that show the lifestyle of your community, ranging from nearby events to people and their pets. To maintain a balance, aim for your social media accounts to display 20% sales-focused messaging and 80% lifestyle images.
2. Reveal Your Human Side
Build a connection with your audience by showing them the human side of your business. Share updates about your teams, progress photos from current projects and communities, and share local news that impacts you. Remind buyers you are part of their community, and that you care about the area you build in. When your audience feels connected to you outside of sales, they are more likely to stick around to do business.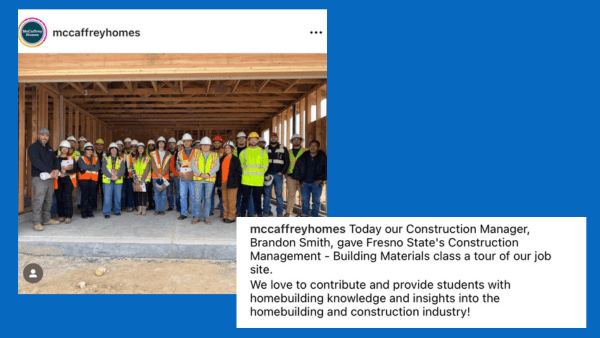 3. Encourage and Foster Engagement
An engaged social media audience begins with you and ends with more leads and more conversions.  Use an authentic voice in your posts: talk to your audience, don't just throw out a sales pitch.  Here are some ideas to increase engagement:
Reply to comments and questions: people expect answers to their questions quickly and when they don't get them, they move on. Replying to comments shows you are paying attention and creates a personal connection that makes your audience feel valued.
Encourage user-generated content: research shows that 49% of shoppers trust consumer reviews as much as personal recommendations from friends and family. 
Ask questions: People love to be inspired by design, and they love to share their opinions. Engage your audience while showcasing your work by asking questions. One way to do this is to ask questions like: "This or That?" This type of post can be used to compare different styles, trends, color palettes, and more.
Post regularly: A consistent flow of messaging builds a sense of reliability with your audience. The more audiences interact with your posts, the more of your posts they will see.
4. Post All Updates with Imagery
Instagram and Pinterest are platforms built for sharing images, but it is just as essential to always include photos or videos on all posts across platforms, including Facebook, Twitter, and LinkedIn. Good quality imagery will resonate with your audience and allows them to imagine themselves in your homes and your communities.  Visuals also provide transparency to your processes and your product which builds trust. Posts with images improve engagement while also communicating more with the intended audience through storytelling and expression. According to marketer Jeff Bullas, content with relevant images gets 94% more views than content without relevant images.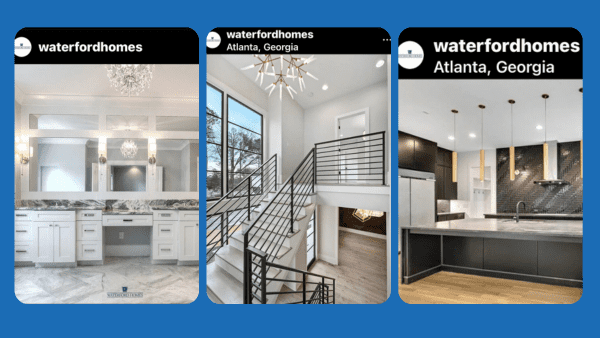 You are already sharing images of your homes and your communities on social media, why do you need to share videos too? Videos give you a platform to speak directly to your audience, engaging them on a more personal level.  It is a more dynamic way to showcase your homes and communities.
Not sure where to start with video? Start simply by introducing yourselves to your audience: create a short series of videos to highlight features and finishes that make your homes stand out. Videos like this capture the attention of potential buyers and allow them to visualize themselves living in the space.  With buyers spending more time researching new homes online, virtual tours of your properties and communities will educate buyers and build trust.
By leveraging video across your social media platforms, you will reach a larger audience and stand out against competitors who are still relying solely on static images.
6. Incorporate Trends that Work for You
Following trends can be a great way to expand your reach and engage users on home builder social media. Not every trend is useful and creating content that does not feel authentic can damage your brand. Research trends and hashtags and incorporate what makes sense for you. Track your analytics and see which platforms and what types of posts get the most engagement from people, and use the data to inform your strategy moving forward.
Don't be afraid to experiment and make small adjustments to see what resonates with your audience.
7. Paid Social Media Strategy
Growing a following through organic posts alone can feel like a daunting task. However, pairing the home builder social media tactics above with a paid strategy can present your brand to a wider, highly targeted audience. There are many strategies to expand your brand with paid social, from "Boosting" an existing post to creating a paid campaign. If you decide to run a paid campaign in Facebook Ad Manager, make sure to include the Special Category of "Housing" to prevent your ad from disapproval.
These are just a few tips for using social media to grow your brand. Home builder social media marketing can be slow at first; it takes time and expertise to learn your audience and get it right. At Blue Tangerine we have a team to of social media experts who can help you effectively use social media to expand brand awareness through new audiences, drive traffic to your website and grow your sales. Learn more about our social media marketing services or schedule a call now.