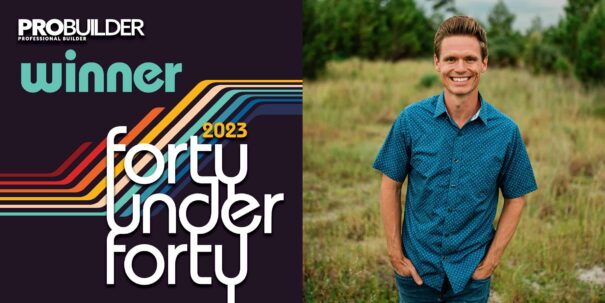 We are proud to announce that Cory Dotson, Blue Tangerine's Sr. Director of Development Operations, has been selected as a member of the Pro Builder 40 Under 40 Class of 2023! Since 2012, Pro Builder's annual Forty Under 40 program has recognized the best and brightest of the housing industry's young leaders, innovators, and disruptors. These individuals are up-and-coming leaders, impacting their communities and seeking out and applying new ideas and new technologies to better the business of home building. There were more than 100 nominations for this year's class and we couldn't be prouder of Cory and his accomplishments.
Constantly innovating to improve, Cory was one of the earliest adopters of responsive website design. He also led the implementation of an online homebuying process for a national builder before the concept was even a consideration for most of the home building industry. With a vision for combining his passions, Cory is now teaching home builders how to harness the power of social media influencers to enhance their marketing strategy."

– Greg Bray, President and Co-Owner, Blue Tangerine
Cory began his career at Blue Tangerine at the age of 19 and has grown up with the company. Seventeen years, and hundreds of home builder websites later, he leads a team of website developers and designers that pride themselves on their ability to architect unique websites with the structural ability to manage data and generate sales. He is committed to delivering websites that fit the specific needs of our clients and keep them at the forefront of the industry and believes the only way to do this is to keep learning. He loves the challenge of learning new technology, new processes, and adapting them to fit those client needs.
An innovator in home builder website architecture and design, Cory was an early adapter of milestone developments in the progression of home builder website user experience and builder efficiencies. He utilizes innovative technology to not only streamline data management but to improve user experience and build a technological foundation for their digital marketing. Cory's knowledge of technology and its relevance to the evolving needs of home builders makes him an invaluable partner to our clients.
Cory has a unique and innate ability to quickly analyze and understand every detail and goal, and then innovate a fresh and brilliant solution to achieving it in a way that is both easy for users and transformative in delivering consolidated, meaningful builder website data."

– Kevin Bondell, President, Adlanta Creative Group
Cory also has a passion for social media. He understands the important role social media influencers can have on brands and recognizes the platform as another innovative adaption of technology. He has combined his passions for both technology and social media to help home builders enhance their marketing strategy and brand power. For the past two years Cory has been teaching home builders how to utilize social media influencers as a valuable piece of their digital marketing strategy. He has presented this material at the International Builders Show, the New Home Sales and Tropical Retreat, and the Home Builder Digital Marketing Summit.
Congratulations, Cory, on being chosen for the Pro Builder 40 Under 40 Class of 2023!
Are you interested in a website focused on driving leads and increasing sales? We can help.