.
You may already be using search engine optimization (SEO) as a marketing strategy, but are you aware of how voice search factors into local SEO? In 2018, 58% of people used voice search to find information about a local business1, and it's predicted that this number will keep increasing. If you want to know more about the growing importance of voice search in advertising your business, keep reading…
While people use voice search features on their mobile phones or smart speakers to ask questions or use commands, many of these inquiries use keywords like "near me" or "located in" to pull up local businesses. This geographical aspect of their search is the main the difference between SEO and local SEO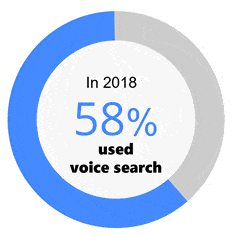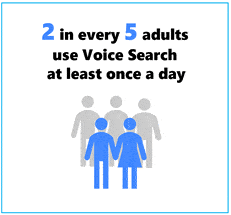 Voice search is changing the local SEO game because more people are using this technology on an everyday basis – in fact, two in every five adults use voice search at least once a day2. Voice search is encouraging businesses to use more informative and authoritative content to respond better to people's conversational language when doing voice search inquiries.
This technology is also placing a greater importance on businesses having positive online reviews written by customers and/or clients. This is because voice assistants like Siri and Alexa use ratings from Google My Business, Yelp, TripAdvisor, and other websites to help determine which business is shared with the user based on their initial inquiry.
In this example:
iPhone user uses casual, conversational language to ask a question relevant to their geographical location.
Siri responds with the highest rated restaurant that is closest to iPhone user's location and provides additional details about pricing that it gets from reviews and websites.
Now that you know why voice search is so important, you'd be surprised that as of 2019, only 4% of U.S businesses with a physical business location are "voice search ready."3 We don't want you to be the other 96% of businesses not reaching their full potential, so here are a few ways you can optimize for voice search:
Claim and verify your Google My Business listing
Encourage social engagement and positive reviews
Make sure your website is fast and has a quick loading time
Include informative content with keyword-rich tags on your website
Include long-form content on your website
While these details about voice search may be accurate now, this technology is continually changing, so make sure to stay up-to-date with this information. If you need help with your SEO, contact us today. Also, be sure to subscribe to our email list so you don't miss out on our upcoming blog post about Google My Business.
Sign Up for our Email List
References
1 & 2 https://seoexpertbrad.com/voice-search-statistics/
3 https://www.bluecorona.com/blog/voice-search-digital-marketing-strategies