Are you currently utilizing Ad extensions with your Paid Search ads? If the answer is "yes", are you using the right ones for your business? If the answer is "no" or "I'm not sure", it's a good time to audit your Paid Search program to make sure you're utilizing ad extensions for maximum results!
You might be wondering: what are ad extensions?
Ad extensions consist of additional nuggets of information that you can use to enhance your Paid Search ads. According to Google, there is typically a 10-15% increase in click-through rate (CTR) for every new ad extension added. Not only do they provide searchers with helpful and relevant information, but they also increase the size of your ads on the search results page.
Best of all, ad extensions can be used for virtually every industry! The key is to use the ones that make the most sense for your business. Google is the king of ad extensions, but Bing and Yahoo Gemini also offer ad extension options as well.
3 Most Common Ad Extensions
You may not have known what ad extensions were, but you've probably seen them before when using search engines like Google, Bing, and Yahoo. The three most commonly used ones are Call Extensions, Callout Extensions, and Sitelink Extensions.
Call extensions enable you can add your company's phone number(s) to your Paid Search ads. Users will either see the phone number or a clickable call button, depending on which device type they are using. What's better than having a potential customer call YOU directly? For this reason, call extensions are one of the most important ad extensions to incorporate. Google and Bing can track call conversions if you use their forwarding numbers. Another option is to use a call tracking service like CallRail, CallTrackingMetrics, or Dialog Tech.
Callout extensions provide additional text about your business, products, and services. You can even mention special offers, promotions, and events within callouts and schedule the callout extensions to start and/or stop running whenever you'd like.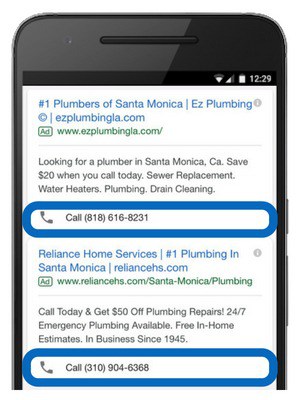 Sitelink extensions allow you to add more website links to your Paid Search ads and take users to those specific pages when clicked. You also have the option to include a description for each sitelink. Not only can the description be even more helpful to users, but they also add to the size of your ad on the search results page. Example sitelinks might include the store location/store hours page, a product category page, or the "Contact Us" page.

Other Note-Worthy Ad Extensions
Seller ratings extensions highlight companies that have high customer ratings. Typically, these extensions are displayed with Search ads when a company has 150+ unique reviews as well as an average rating of 3.5 or more. Reputable sources that aggregate customer reviews are used by Google for this extension type. Unlike the other ad extensions listed in this article, Seller ratings extensions are automated.
In a previous blog post, we discussed the power of reviews from the local SEO perspective. In addition to an SEO benefit, there is also a benefit on Paid Search and being eligible to show the Seller ratings extensions alongside Paid Search ads as a result.
Structured snippet extensions provide users with specific details regarding the type and range of products/services offered. They are made up of 2 components: a header and a list of values (as seen in the example above). Google currently offers 13 different types of headers, including "Amenities", "Brands", "Styles", "Types", "Neighborhoods", and "Models". Up to 2 structured snippets can be shows at a time on a computer, while 1 can be show at a time on mobile and tablet devices.

Location extensions aid searchers in finding your location by displaying your address, a map to your location, or the distance to your location. The phone number or call button might also be shown in some instances. With searches becoming more and more locally focused, location extensions are especially vital if you have a physical location.Google Location extensions can show in a wide variety of places, including text ads, Google Maps, the Google Display Network, and YouTube video ads.

Price extensions display the prices for the products/services that you offer. It essentially consists of a price menu and allows users to link directly to what interests them. Not only can price extensions be used for businesses within the service industry like a salon, they can also be used in the retail and real estate industries.
There are even more ad extension types out there (such as Message extensions, App extensions, and Affiliate location extensions) and new ones are being added regularly.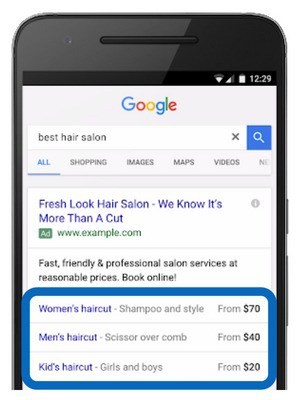 Contact the Blue Tangerine team to learn more about Ad Extensions and other strategies to boost your paid search efforts.