Our industries thrive on personal interactions. While our team stepped seamlessly into this remote-only world the past couple of years, we have definitely missed in-person connections. It was great to be back together at NAHB IBS 2022 in Orlando earlier this month! There was a vibe of cautious relief as people relished the experience of seeing each other again, face-to-face. Not only did we get to see our industry partners and clients, but our team was also able to come together! Members of our account management, executive leadership, digital marketing and website design teams all attended the conference this year. We gained so much from our interactions with clients, colleagues, and friends, these three days of learning and sharing ideas were inspiring! 
"From home building services, turnkey products and trends, buying solutions and relevant marketing tactics, being in the midst of the show allowed me to gain a unique perspective along with insights and education I can share with my home builder clients."

- Amy Shahandeh, Account Manager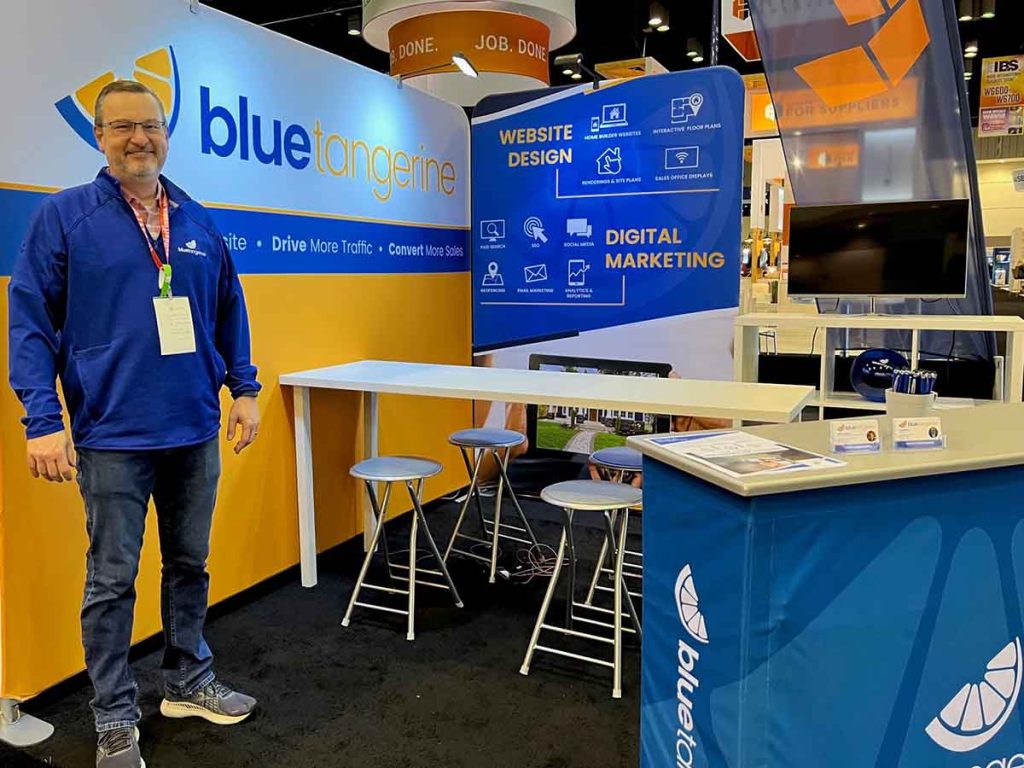 The Blue Tangerine booth at IBS provided us the opportunity to network with builders, potential partners, industry friends, and people from other industries. Absorbing that time together in person, we had great discussions about how to build and implement better websites, how to obtain better leads, and how to convert more of those leads into sales.
"There was a terrific energy level in the exhibit hall this year.  The conversations with visitors to our booth reflected a lot of the optimism everyone in the industry is feeling right now.  It is a great time to be in homebuilding!"
- Greg Bray, President & Co-Owner
An added value to traveling to IBS is the opportunity to share our knowledge and experience. We were privileged to participate in three educational sessions at this year's conference. Greg Bray collaborated on two online home buying panel discussions and Director of Strategy, Cabe Vinson, shared valuable information on local SEO search strategies.
"Of course I hear Greg and Cabe speak in internal and client meetings throughout our normal workday, but there was something different about hearing them speak professionally during their sessions. Hearing the material they shared made me proud to be on this team. I am thankful I get to learn from such confident and knowledgeable leaders." - Sidney Logan, Account Manager
Does Your Website Have a 'Buy Now' Button?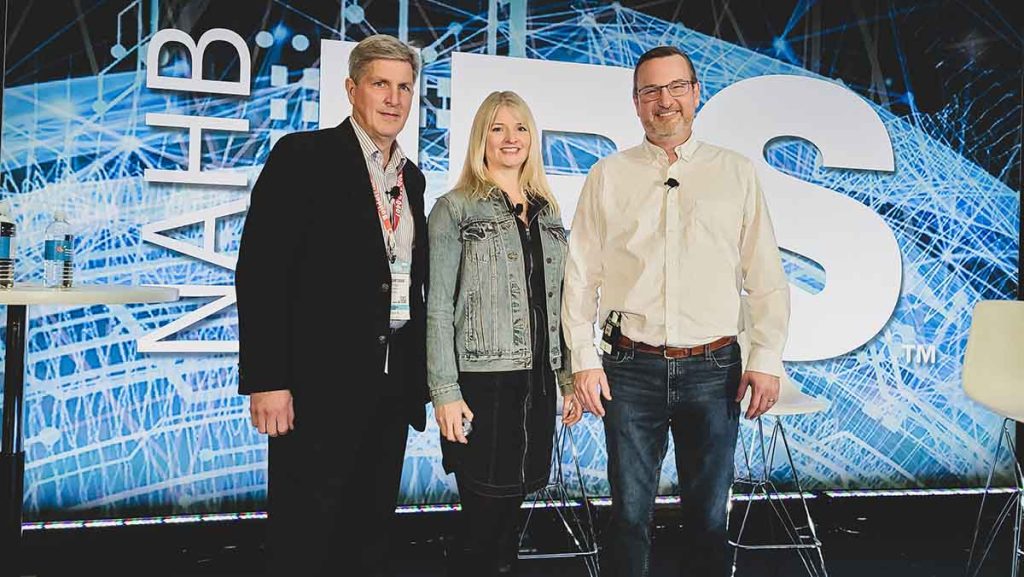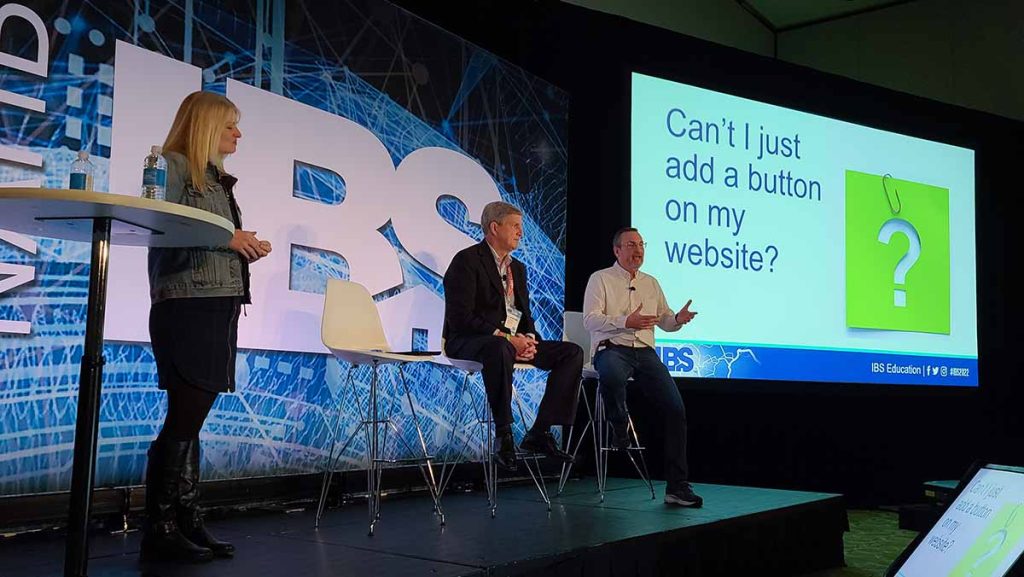 Greg joined Carol Morgan of Denim Marketing and Paul Gortzig from the Bokka Group for a lively discussion on the future of buying homes online. More than just slapping a button on your website, these three discussed the technology and business processes involved with the online home buying process. Sales, marketing, data, and technology all merge to provide home buyers the online experience they not only want but expect, from their new home buying journey.
"This was such a great discussion. All three shared the different aspects of Buy Online options, really highlighting that there is no one size fits all approach. It's all about enhancing the homebuyer experience with online options."
- Cory Dotson, Sr. Director of Development Operations
Strategies & Success Secrets for Selling Homes Online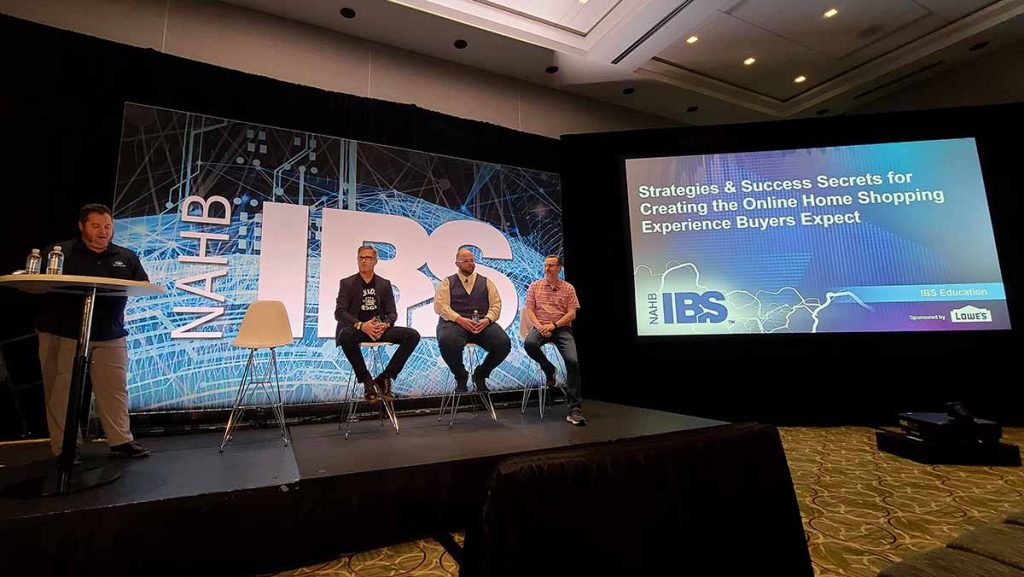 In a discussion between three friendly competing website development agency leaders, Greg joined Chip Johnson of Builder Designs and Dennis O'Neil of ONeil Interactive to share their thoughts on ways home builders can implement processes to aid in buying homes online and what it means to each of them. Different viewpoints with the same goal in mind: help builders understand the process and importance of implementing "buy online" options for potential buyers.
If you missed the session, or if you learned so much you just want to hear the information again, you're in luck! We are hosting an encore webinar session on March 24th at 1:00 PM (EST). Moderated by Kevin Weitzel from Outhouse, this is sure to be a fun discussion you won't want to miss.  Register now to reserve your spot!
"Everyone's understanding of buying a home online is a little different. This session raised thoughtful questions for homebuilders deciding if a buy online option is the right fit for them. It was interesting to see the dynamic between the three competitors, and hear their individual thoughts about what it truly means to buy online. And let's not forget about the spice that Kevin adds to every conversation!"
- Sidney Logan
Discover Hidden Gems in Local SEO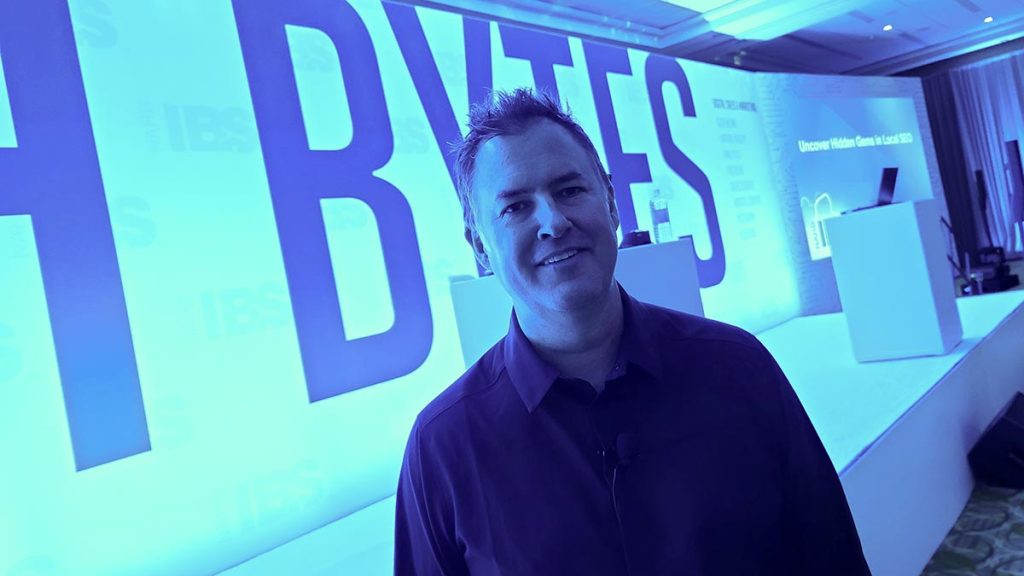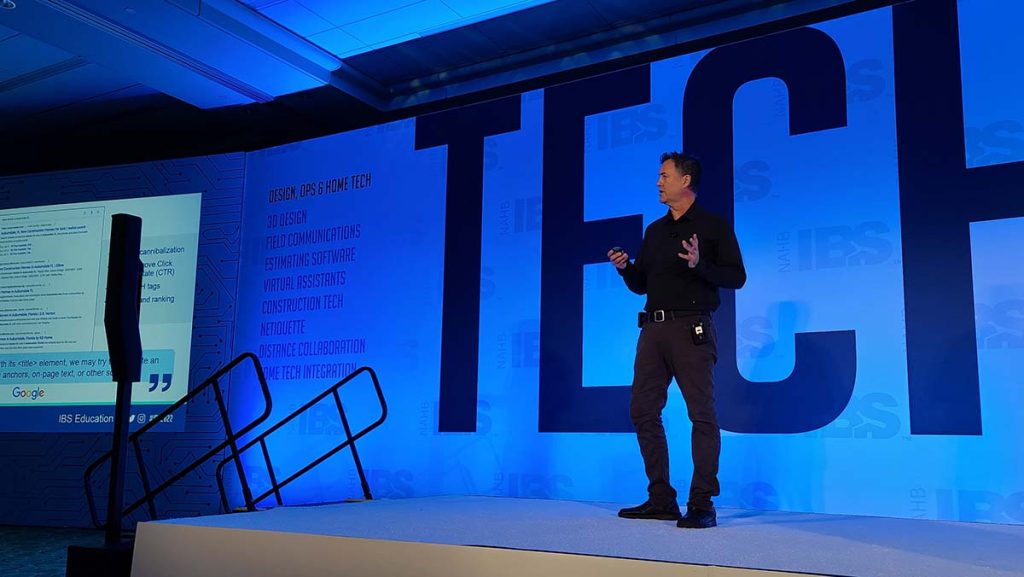 Our Senior Strategist, Cabe Vinson, made his IBS debut with this popular topic. Cabe focused on 4 key areas for local SEO strategy: On-Page Optimization, Google My Business, Reviews, and Backlinks. If you're looking for tips to gain traction in your local search rankings, this was the session to attend. Cabe packed so many helpful strategies into his presentation that everyone walked away with new ideas. Did you miss out on these gems? Don't worry, if you're looking for help in this area, we have a team of Home Builder SEO experts that would love to chat with you on how to improve your results.  
"Local SEO is a hot topic right now and Cabe really nailed it!  You would have never known it was his first IBS presentation; it was clear to everyone in attendance that he knows and understands these concepts at a very detailed level." - Greg Bray
We had a great time in Orlando, but we returned to work this week full of motivation and inspiration from all of the knowledge we gained and the people we met! 
We're excited to engage with you very soon at our very own summit this September. Mark your calendars for our Home Builder Digital Marketing Summit in Phoenix, Arizona on September 21-22, 2022. Stay tuned for details – sign up here for a first look at the speaker lineup, agenda, and a notification when registration opens.  
In the meantime, let us know how we can help with your website and digital marketing needs. Call, chat, or contact us.