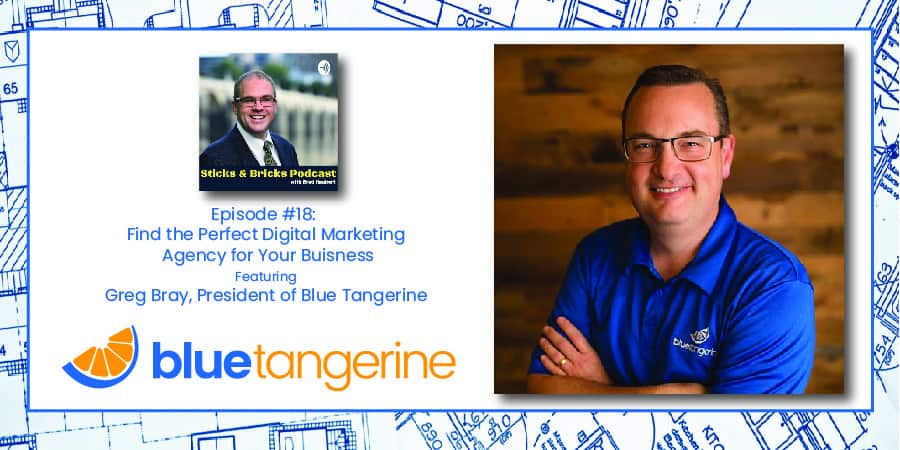 {"type":"inserter","blocks":[{"clientId":"e89ee74a-4b3d-45ad-b646-33c8ed3e328f","name":"core/image","isValid":true,"attributes":{"alt":""},"innerBlocks":[]}]}
The Sticks and Bricks Podcast hosted by Brad Haubert recently welcomed Blue Tangerine President Greg Bray as a guest. The podcast titled, "Greg Bray: Find the Perfect Digital Marketing Agency For Your Business," covers what to look for in a marketing agency.
Everywhere these days you hear about the trend of digital marketing. But is it that important to have a good website? Greg's quick answer is, YES! At first glance, potential customers will judge a company based on the quality and usability of a website. So, what do you look for when you finally decided to get serious about your marketing presence online?
Greg and Brad dive deep into what to keep in mind when finding an agency that is the right fit for you. For example, different agencies will offer different areas of expertise, whether that be SEO, Paid Search or Graphic Design, but not every agency will cover all your companies needs. It is more and more likely these days that you will be working with more than one agency to take care of all your marketing needs, so make sure you are looking for a business partner-friendly agency.
Whoever you choose to add to your team on your marketing journey, make sure they are the perfect match for you and your company.
Contact us today to learn why Blue Tangerine could be the right agency for you!