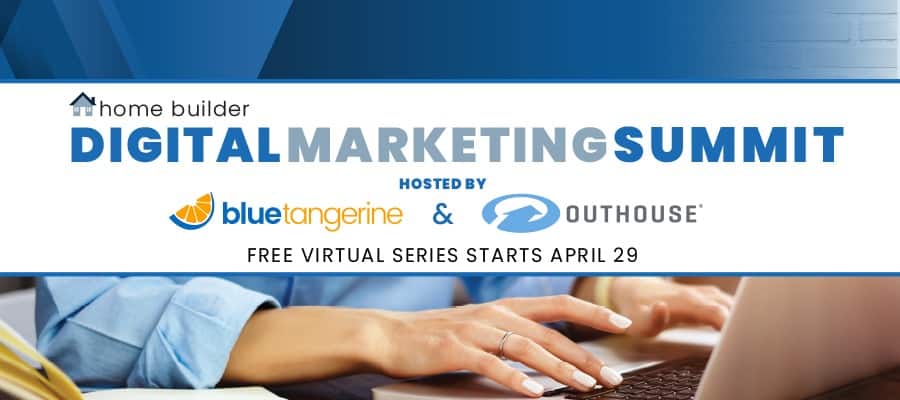 We're happy to announce the 3rd Home Builder Digital Marketing Summit! Back by popular demand, we'll be hosting a FREE virtual series – April 29, May 6, May 13, May 20, 2021.
Home Buyer Behavior is Changing Quickly.
We'll Help You Keep Pace…
Blockbuster, Borders, and Kodak were once thriving brands that met their demise by failing to recognize the change in consumer behavior. The pandemic has accelerated a shift in buyer habits. Do NOT let your home builder business fall behind. Here's your opportunity to learn from the top minds inside (and outside) the home builder industry to help you secure your business's future.
These sessions will provide you with strategic insights you can put into practice right away. We're excited to present some awesome topics, check out the session line-up below!
Presentation Line Up
Leading Through Extraordinary Times – Ronda Conger
How 2020 Has Changed Consumer Behavior: Builder Panel – Part 1
What drove buyers in 2020? – Ali Webster
Professional Networking on LinkedIn: Leads & Networking – Carol Morgan
5 Keys to Successfully Sell Homes Completely Online – Greg Bray
Qualifying Leads: The Discovery Process for Residential Home Builders – Russ Stephens
Cutting Edge Digital Tools That Drive Engagement & Real Estate Sales – Justin Croxton
Marketing Virtual Events: Builder Panel – Part 2
Don't miss out! Learn valuable insights to help grow your business. Bring the whole team – it's FREE!