Every entrepreneur or business owner understands the value of their reputation. The concept that a good reputation is critical to lasting business success is centuries-old, and customer satisfaction companies like the Better Business Bureau (BBB) were formed and remain popular for this very reason. For many businesses, online reviews are now their most valuable reputation indicator and are a foundational piece to any successful SEO (Search Engine Optimization) effort. However, we frequently find that, for many businesses, review strategy is an underutilized aspect of a business' digital marketing initiatives.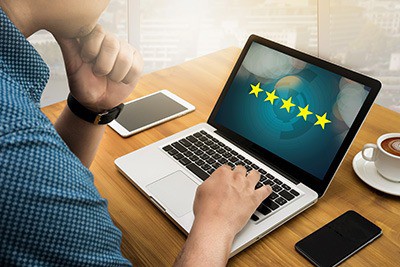 Why Are Reviews Important
The digital landscape is changing at a dizzying pace, but so are the ways in which consumers seek and leverage reviews in their buying decisions. According to BrightLocal's yearly consumer review survey, 85% of consumers trust online reviews as much as personal recommendations and 97% of consumers used the internet to identify local businesses in 2017. However, a key takeaway for local businesses is the following: After reading a positive review, a potential customer is more likely to call, email or visit a local business before visiting a business' website. For many local businesses, a phone call or in-person visit is considered a strong lead and core marketing goal. Positive reviews often give potential customers the reassurance that they need to move into the purchase funnel. However, the bottom line is that reviews no longer simply influence whether a person chooses your services or product—they also impact your presence in the search results, as well as your SEO ranking. Furthermore, there is mounting evidence to suggest that reviews may become even more critical to SERP (Search Engine Result Page) rankings in the coming years.
How Reviews Impact Local SEO
It's an established fact that reviews matter a great deal to potential customers and consumers are getting more review-savvy. Therefore, it makes sense that search algorithms wish to reflect these trends in the search results to provide end-users with a superior search experience. The following are 5 ways that reviews currently impact local SEO: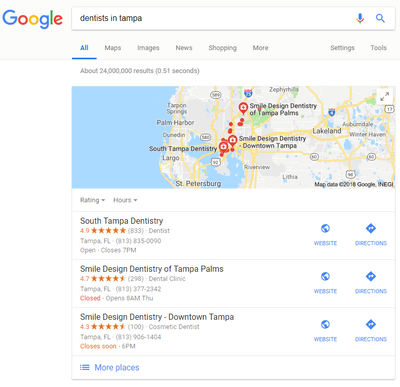 Google's Local 3-pack
Perhaps the most prominent and sought-after place in Google's local search results is the "3-pack" listing of 3 highlighted map results, which feature aggregated star review ratings. Google's local 3-pack contains a listing with the most reviews 63% of the time. Using the example provided, South Tampa Dentistry owns the highest ranking on the page by establishing trust and authority with a high number of positive reviews on their Google My Business profile.
Google Likes Highly-Rated Businesses
It's a known fact that Google and other search engines take into consideration the ratings of sites when displaying search results. Note: If a business ranks well organically, then it is also likely to rank well in Google's map listings.
Visible Star Ratings
When star ratings are displayed in the SERPS, they can lead to increased clickthrough and conversion rates. Through the implementation of structured data, reviews can be highlighted to the search engines and leveraged as expanded search results.
Semantical SEO & Voice Search
Googles' RankBrain algorithm isn't just about keywords anymore, but also about understanding user search intent through contextual meaning. Review sources can provide both strong keyword and contextual relevance to Google for both voice and keyword searches, thus increasing your chances of appearing prominently in Google results like featured snippets and map listings.
Improved Citation Signals
Reviews aren't just one-offs but integral components of many citation sources (mentions of your brand on the Web). Citation sources that rank highly for your industry are possibly the results potential customers will see first. Engaging in a diverse array of review platforms (including those unique to your industry) can help your citation building efforts while also expanding your digital footprint. Example: Reviews can boost your social profiles and social reach by establishing greater trust, conversation and awareness about your brand.
Some Key Strategy Considerations
The following are a few areas of focus to help you with jump-starting or super-charging your review profile:
Local review ecosystem: Research and understand the local review ecosystem for your location and market before implementing a strategy
Develop a review strategy: Different strategies will work well for different businesses
Encourage reviews: Through the website, via email, social media, etc… If using a third-party review service, make sure it is recognized by Google
Review Policies: Understand the guidelines and best practices for the most essential review platforms
Optimize your Google My Business profile: A fully developed and optimized GMB profile goes together with a sensible review strategy and is critical to local SEO success
Use structured data: Highlight reviews with structured markup to enrich organic search results
Reply to reviews: Even the worst reviews need to be answered (carefully), and these can still have ranking value.
Stay fresh: The older the review the less convincing or impactful that review becomes
Monitor & review: Track your review scores, quantity, quality and diversity, as well as the authority of the sites on which reviews are present
Reviews are a perfect example of how SEO strategies should support and intersect with overarching business and marketing goals. Case in point, if your company goals are in-person visits or click-throughs to your website, positive reviews will help. And, if you want to competitively rank in the local SERP's, positive reviews will help. A strong review profile, when combined with other foundational SEO efforts, might give you the edge you need in the local search results.
For assistance in creating and leveraging a review strategy that works for your business, contact us today!