As we end another year, we want to express how grateful we are for the opportunity to work with our valued clients and partners. Our team is looking forward to helping you plan for a successful 2022. Here are some top digital marketing tips that will help you make a positive impact on the new year to get you started.
Improve Your Website's Emotional Impact
Greg Bray, President of Blue Tangerine
The decision to purchase is at its core an emotional one, which is then backed up and supported by rationality and logic. Sales teams already know and understand this key principle. However, it can be easy to forget that the emotional nature of this purchase is the same regardless of whether the sale takes place in person or online.
Of course, you need all the technical infrastructure in place to make online buying work, regardless of what you are trying to sell, but if you skip the part about creating an emotional connection with the buyer on your website, then having eCommerce features and functions alone won't achieve the desired sale.
There are two key parts to emotional connection online:
preventing the negative emotion of frustration that comes from slow-loading pages, the inability to find what you are looking for, and being overwhelmed with options and choices, and
fostering the positive connection to your products that comes from engaging visuals, interactive tools, and descriptive content that allows your prospective buyer to see themselves using your products and loving it.
In 2022, take time to evaluate and improve the emotional impact of your website on your prospective buyer. Your sales, both offline and online, will thank you for it.
Digital Traffic Leads to Your Website
Cory Dotson, Sr. Director of Website Operations
With the new year comes new opportunities, new budgets, new marketing plans, and of course new challenges. As you start putting together your digital marketing plan for 2022, don't forget that most of your digital marketing efforts are created to drive traffic to your website. It is critical that the website not be an afterthought, but instead the foundation of your marketing strategy and goals. You can sell all the tickets to the concert you want, but without an engaging performance you will fall flat.
Listen to my Home Builder Digital Marketing podcast episode to learn more about the website design process.
Monitoring Google Core Updates
Cabe Vinson, Director of New Business Development and Sr. Strategist
Google changes its search algorithm around 600 times per year, which equates to about 1-2 updates per day! While most of the changes are hardly noticed, some larger updates have significant impacts in SEO as they result in a change in the way Google indexes and ranks web pages. Earlier in May 2021, we had the Google Page Experience update which included Core Web Vitals. Then in July it was the "link spam update", which had notable impacts to how business should approach link building. In November Google released an update right before Black Friday, blindsiding some by the timing. Rest assured Google will offer several notable algorithmic updates to keep us on our toes in 2022, but how can you keep up with and plan for these changes?
Fortunately, Google will typically announce core updates before they roll out. Ensuring your SEO team is following the Google Search Central Blog is a good way to stay ahead of the curve – take a few minutes to read through each update.
Ensure someone is closely monitoring your website's traffic and page/keyword indexing in Google Analytics and Search Console.
With an understanding of these ongoing updates, as well as the impact to your website traffic, plan for and make appropriate changes to your SEO strategy.
Regardless of the steady onslaught of algorithm updates, investing in long-term SEO strategies should always be your highest priority. In 2022, strike a good balance between staying up to date on algorithmic updates by Google while also continuing to build and maintain a solid foundation to ensure future success in an ever-changing landscape.
Personalize the Buyer Journey
Mila Sorenson, Sr. Director of Marketing and Client Services
Is it just me or do all the Christmas trees looks like upside down sales funnels 😊 As I reflect on some of the marketing challenges I see most often, I encourage you to really take some extra time to strategize your marketing and advertising efforts based on where a buyer is in the journey. Each of these efforts should have a customized focus and measurable KPI goals.
Often times as marketers, we expect every advertising touchpoint to generate leads and sales at the same rate and are disappointed when we don't see this on our monthly reporting. If you cast a wide net to try and get prospects to notice you with social media or geofencing, then the goal of those efforts should reflect that and you should expect a lower conversion rate. The initial focus may be on brand awareness and not conversion, although conversion is what we're ultimately after. By mapping out your ad messaging and spend at each point in the sales funnel, your marketing channels and messaging can work together and you can more effectively optimize your budget to achieve higher success.
How to get started: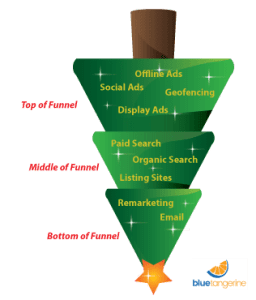 Draw or map out a high level plan for each advertising channel on a sales funnel, or use an upside down Christmas tree ('tis the season!)
Decide what the objective is for each advertising channel – is it to create brand awareness, interest engagement, nuturing, etc?
Personalize the messaging for each sales funnel stage.
Assign goals to each touchpoint.
Measure regularly, optimize and adjust your plan.
Make 2022 a breakout year by creating an funnel-based action plan for your digital marketing efforts. And if you need help, we're just a phone call away!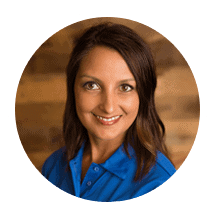 MILA SORENSON, SR. DIRECTOR of MARKETING & CLIENT SERVICES
With over 25 years of marketing experience, Mila specializes in helping clients formulate marketing plans to capture more leads, sales and ROI through services such as SEO, Paid Search, Email Marketing, Social Media, Geofencing, and Website Design.