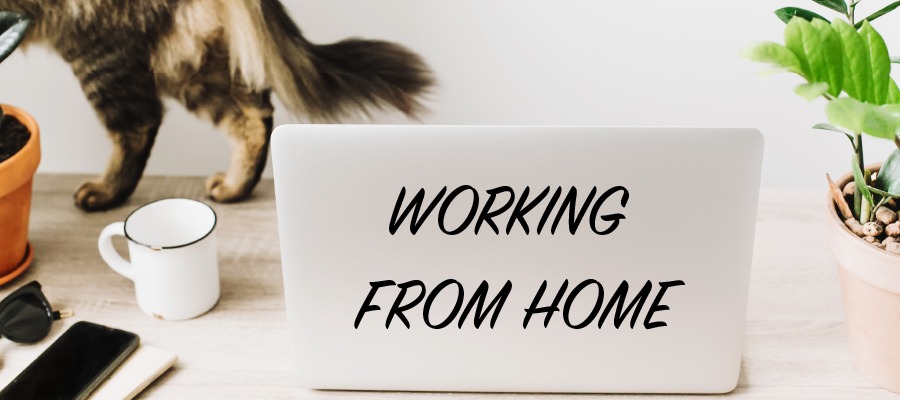 In September of 2004, our company office in Vero Beach, FL was damaged by Hurricane Frances and became unusable.  I suddenly found myself working from a makeshift desk in the corner of my bedroom struggling to keep the company moving forward and continue supporting our clients.  As situations evolved and our office changed locations to Melbourne, FL, I ended up continuing to have my home office as my primary base of operations.  Admittedly, I have a nicer desk and a separate room in the house now, but it has been a journey to learn how to navigate some of the specific challenges of being a remote worker and managing a remote team.
The recent stay-at-home orders related to the COVID-19 coronavirus have caused many others to face a similar upheaval and suddenly find themselves trying to keep their business running from kitchen tables or makeshift desks.
Here are a few tips that I'd like to share from my experience of working remotely from a home office for over 15 years.  I hope implementing these simple ideas and suggestions will help make things more productive over the next few weeks or months for those who are new to the whole "work from home" experience.
Remember that a remote position is one of high trust. Your company, your team, and your customers are trusting and counting on you to get your work done. Trust is fragile, so act accordingly.
Starting your day
Create a new morning routine

Get up and get started at a consistent time each day, just like you do when you go to the office.
Going for a walk or getting in your workout will get you up and ready for the day!
Get yourself ready and dressed like normal in the morning. Change out of those PJ's! The way you dress influences how you feel about and conduct yourself in a professional manner.
Creating your own workspace
If at all possible, create a workspace in a quiet spot away from the rest of the normal household traffic. The article Establishing Your Home Workspace states, "Obviously, someone who is living alone has different options than someone whose home reminds visitors of the movie Cheaper by the Dozen." Depending on your household circumstances, your options may differ from others, but finding a dedicated/private workspace will increase your productivity."
Managing both work and your kids while working at home
With schools coming to a close for the time being, parents can be overwhelmed with the task of working from home with kids. Be patient with your kids if they get a little noisy in the background from time to time.  After all, it's their house too!
Communicate ahead of time when there is that important phone call where extra quiet would be appropriate, and then don't worry about some of the other times.  Good headphones can help!
To find more tips on how to work from home with kids, check out this excellent article '5 tips for effectively working from home during the coronavirus outbreak, when you have kids' by Courtney Connley.
Many years ago, while working from home around 4 p.m. I went to get a drink of water.  My youngest son was there and asked "Dad are you home from work yet?" to which I replied, "No, I'm not home yet. I should be home in about an hour or so."  As I went back to my desk, it struck me how the definition of "being home from work" had evolved for both of us.  While it takes some adjustment and getting used to, with focus, effort, and good family communication, you will be up and running with high productivity in no time.