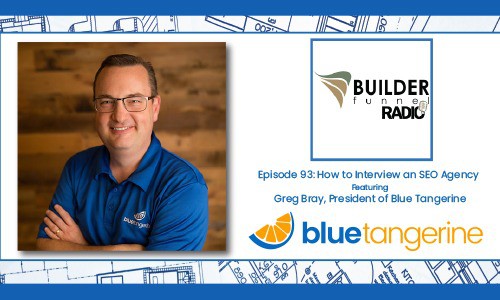 Recently Blue Tangerine President Greg Bray joined Spencer Powell on Builder Funnel Radio. With so many deceptive SEO claims promoted, the two discuss how to interview an SEO agency and pick up on red flags.
There's no way around it, SEO is complicated as it carries masses of variables, and Google and other search engines don't share the exact formulas. SEO takes time to gain traction and can be labor-intensive. However, hiring a knowledgeable and honest agency to improve your search engine rankings can provide a tremendous competitive advantage and ROI in the long run.
Greg and Spencer break down the basics of SEO and cover misconceptions. They also discuss key questions to ask prospective SEO agencies and what to realistically expect with ongoing SEO projects. Greg breaks SEO into three main buckets, (1) technical, (2) content keywords and (3) offsite. Reputable agencies should be able to outline how they can help you in all three areas. Greg informs of reasonable timing in seeing results and measuring the right outcome to ensure ROI.
A big thanks to Spencer Powell at Builder Funnel Radio.