As we head into the new year, I look forward to setting new personal goals and taking a fresh look at the top digital trends that will help my clients reach new levels of success. There are so many new opportunities to explore, but I've narrowed down a few I will be sure to act on in 2023. 
Google Analytics 4

,

aka GA4
Earlier this year Google announced they will be sunsetting Universal Analytics (UA), which has been around for about ten years, to make way for their newest iteration, Google Analytics version 4 (GA4). 
With this deadline looming in 2023, it's imperative for marketers who want to continue to use Google Analytics to track website and app activity to create and start using the new GA4 version. Since GA4 will start tracking data only once it has been implemented, I urge you to get this set up as soon as possible so you have some comparison data. GA4 tracks data differently than its former version, so it will take time for you to understand the nuances within the data as well as get used to the new reports.  
Create a GA4 property as soon as possible to start tracking website and app activity. 

 

Review the GA4 data and compare it with the UA data to understand the differences in metrics and reporting. 

 

Train your teams that look at Google Analytics on the new version and be ready for the phase-out before July 1, 2023. 

 

Reach out to Blue Tangerine if you need help with GA4, our team is experienced and can get you up and running. 

 
"On July 1, 2023, standard Universal Analytics properties will no longer process data.  You'll be able to see your Universal Analytics reports for a period of time after July 1, 2023. However, new data will only flow into Google Analytic 4 properties."

Source: Google
Collecting

First- and Zero-party Data

 

 
Another Google pivot that will directly impact digital marketers very soon is the disabling of 3rd party cookies in Google Chrome, or "the death of the 3rd party cookie." To enhance user privacy, Google is "developing privacy-preserving alternatives to third-party cookies and other forms of cross-site tracking."  
Although Google's browser isn't the first to block these cookies, it does have 65% of the market share, making this more impactful. Advertisers that rely on 3rd party cookies to track user activity on other websites for more targeted advertising will pose a potential negative impact on those efforts.  
With this planned phaseout taking place in 2024, digital marketers can use this opportunity to enhance their first– and zero-party data: data collected directly from website visitors or provided directly by customers. Utilizing this data enables easier retargeting and the ability to nurture audiences through their buying journey. 
First and Zero-Party Data Recommended Actions: 

 
Review your practices for collecting first-party data and implement any additional tracking to provide more insights that can be utilized for targeted advertising. 

 

Look for opportunities to collect zero-party data by asking users directly for their feedback through surveys

,

and other data collection points. Asking users directly for their feedback provides more precise and detailed data rather than solely relying on data points about on-page behaviors. It can also improve your relationship with customers because people choose to give their information freely.

 

Implement privacy practices that protect the user and customer data that you have collected. With both first- and zero-party data, there is a higher expectation towards privacy and protecting data.

 
Brands using first-party data in key marketing functions achieved a 2.9x revenue life and a 1.5x increase in cost savings.
Source: Think with Google
Conversion Rate Optimization

 
As marketers, we spend lots of effort, time, and money trying to drive the right audience to our website. Ads are continually reviewed and optimized to achieve better results, but what happens when visitors land on the website and don't stay around long enough to convert into a lead or a sale? One of the often-overlooked factors in the success or failure of your advertising efforts is your website itself.  
Recommended Actions for Conversion Rate Optimization (CRO):
Use analytics (hint: GA4) to understand how consumers are using your website and find the value per visit.  Analyze the top visited pages

,

and pages with a low value

,

to find potential issues that impact usability like page speed, layout, calls-to-action, input forms, etc. 

 

Collect and analyze user experience data using tools like Google Pagespeed Insights, Google Search Console, HotJar, CrazyEgg, website surveys, and A/B testing tools. 

 

Use the data to make improvements and optimize the user experience on your website. Rinse and repeat! 

 
The average landing page conversion rate across industries is about 2.35%.

Source: Wordstream
User-generated content from social media users and customer reviews/testimonials are often viewed as more authentic and trustworthy because (in most cases) they aren't tied to the company and don't have a vested interest in its success. Because of this, utilizing this type of content can have a high impact. 
Recommended Actions for Increasing User-Generated Content:
Start a process to request more user-generated content. Ask regularly for reviews, post requests on social media, and encourage users to share. 

 

Implement a plan to utilize the gathered content on your website, social sites, and in your overall marketing to build trust in your brand. 

 
Explore New Advertising Channels
With advancements and pivots (thanks, Google) in technology, exploring new marketing channels that can help to grow the business and achieve business goals is a focus that is always on my list, year after year. This doesn't mean following the latest fad in advertising but investigating new opportunities you haven't tried yet for your business.  
Recommended Actions for Exploring New Advertising Channels:
Review your current and past advertising performance to see if there are opportunities for optimization or retesting. 

Be willing to experiment. If something you try didn't work the way you expected, try a different approach.

 

Take another look at your customer profile. Are you advertising to the people who are actually buying your product? You may need to refine your audience targeting strategies.

Investigate advertising channels like Google Ads, Microsoft Ads, Social Media networks (Facebook, Instagram, TikTok, LinkedIn, Pinterest), Geofencing, OTT advertising, other Programmatic advertising or even Direct Mail Retargeting.  If you need ideas, we can help!

 
Sticking with what you've always done simply because it is what you have always done doesn't mean it is good for business. With the shifting market, it's more important than ever to keep investing in advertising and looking for new, more effective ways to reach your ideal customer.
What's in Your 2023 Plan?
So there you have my shortened list of digital tactics to work on in 2023. I'd love to hear your feedback on what things you will be focusing on. Send me an email at mila.sorenson@bluetangerine.com (I would love some user-generated content 😊.)
The Blue Tangerine team would love to help you with your digital marketing strategy for 2023. Please connect with us to see how we can partner with you to achieve your goals.
Let's bring on 2023! Happy New Year!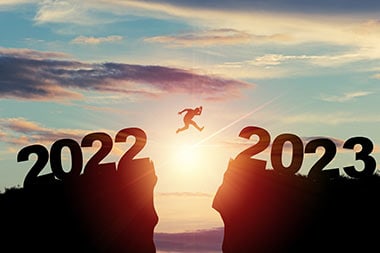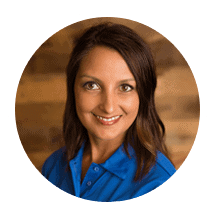 MILA SORENSON, SR. DIRECTOR of MARKETING & CLIENT SERVICES
With over 25 years of marketing experience, Mila specializes in helping clients formulate marketing plans to capture more leads, sales and ROI through services such as SEO, Paid Search, Email Marketing, Social Media, Geofencing, and Website Design.